Circle around Sina prison in Heseke tightened
The SDF and the Internal Security Forces have tightened the siege ring around Sina prison in Hesekê. The fighting outside the detention centre is intensifying.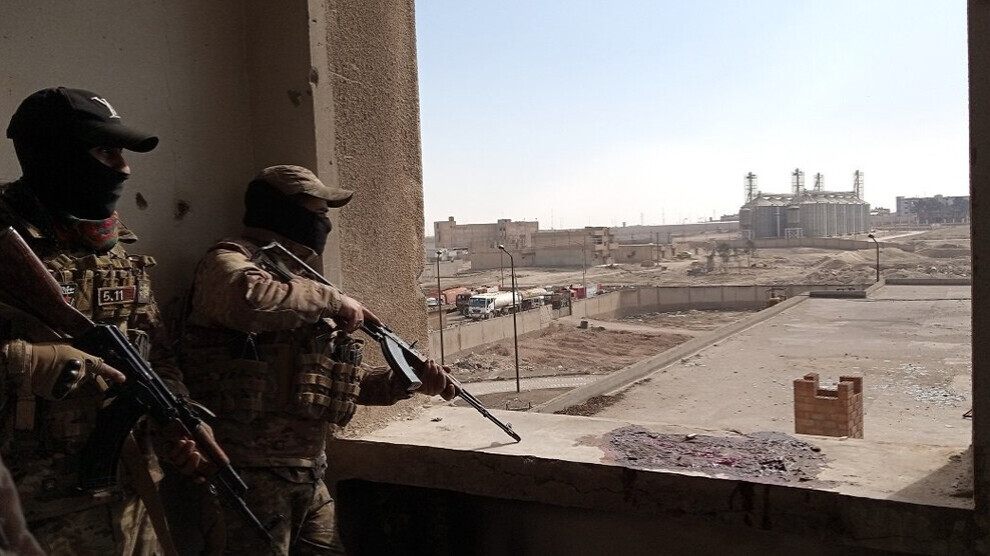 The Internal Security Forces of the Autonomous Administration of North and East Syria, supported by the Syrian Democratic Forces (SDF), tightened the siege around the Sina prison in Hesekê on Monday. The plan is to isolate the remaining terrorists even more and to regain control of the prison as quickly as possible. The immediate surroundings of the detention centre are already under control. Currently, however, the clashes in the neighbourhood are intensifying.
Four days after the attempted storming of the prison in the district of Xiwêran (Ghweiran), there are still scattered pockets of resistance within the sleeper cells of ISIS. The international anti-ISIS coalition has carried out nine airstrikes on the prison compound since Monday morning, and operations in the surrounding area to capture ISIS mercenaries holed up in residential buildings also continue. About 25 members of the jihadist militia were arrested on Monday as they tried to flee the neighbourhood or surrender. Among them were also five Islamists wearing women's clothing.
Meanwhile, the SDF pointed out that the ISIS prisoners involved in the insurgency inside the prison were abusing several minors as "human shields". They were children who had been recruited into the ISIS youth organisation "Cubs of the Caliphate" and were housed in the rehabilitation ward of the detention centre. Around 700 children and young people who had been taught the ISIS doctrine were most recently rehabilitated in a special annex. The SDF called on the United Nations (UN) and the International Committee of the Red Cross to take action for these young people.