Demonstration against the isolation of Öcalan in Marseille
Kurds and their friends continue their protests across Europe and all around the world to protest against the isolation of Abdullah Öcalan.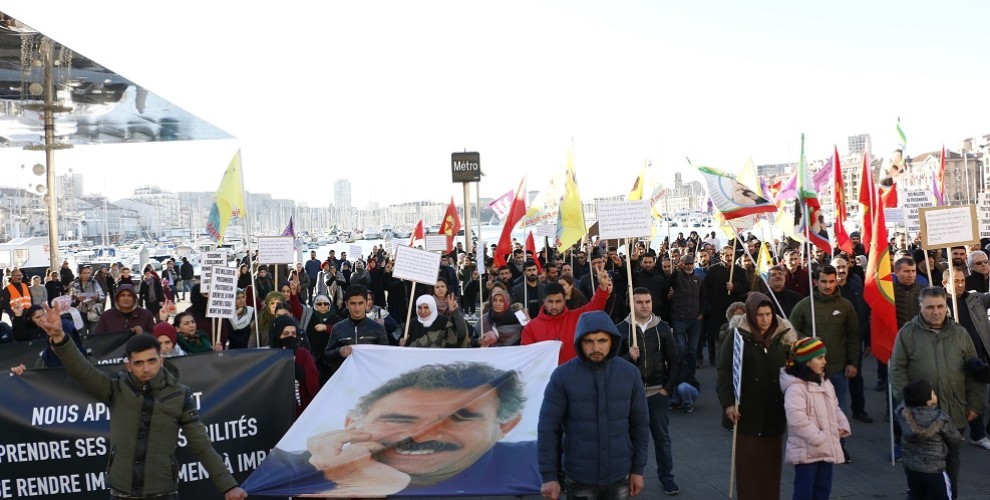 The Kurds living Marseille and surrounding regions took to the streets to draw attention to the indefinite and non-alternate hunger strikes launched in Turkish prisons and in Strasbourg, first initiated by DTK co-chair and HDP MP Leyla Güven who is jailed in Amed prison and is on the 61st day of her hunger strike, demanding an end to the isolation conditions imposed on Kurdish People's Leader Abdullah Öcalan.
As part of the increasingly ongoing protests, hundreds of people rallied Marseille, France.
Activists participating in the march chanted the slogans "We are all Öcalan", "Murderer Erdogan" and demanded freedom and safety conditions for the Kurdish leader.
The demonstrators gathered in the afternoon at the Canebière Square, chanting the slogans "Murderer Erdogan", "Freedom for Öcalan" and "We are all Öcalan".
After the speeches the mass started a march, carrying huge posters of Abdullah Öcalan and Leyla Güven, protesting the annihilation policies of the Turkish state against Rojava.
The demonstrators who saluted the hunger strike resistance urged the CTP to immediately recognize the hunger strikers' demand and visit Abdullah Öcalan in Imrali.
Thousands of leaflets in French were distributed to inform the people about Turkey's plans of a massacre against the Kurdish people.
The march was followed by a rally at the Vieux-Port Square after a minute of silence in memory of the martyrs of Kurdistan revolution.
The rally continued with speeches which all stressed that the Kurds in Europe will not remain silent in the face of the Turkish state's massacre attempts against Rojava and North Kurdistan, and called for further resistance in all fields of life.
The rally ended after speeches.