Erdogan points the finger, police takes into custody
The AKP continues to detain Kurds they can't force to surrender. There are over 100 people detained just today. Operations expand as Erdogan speaks.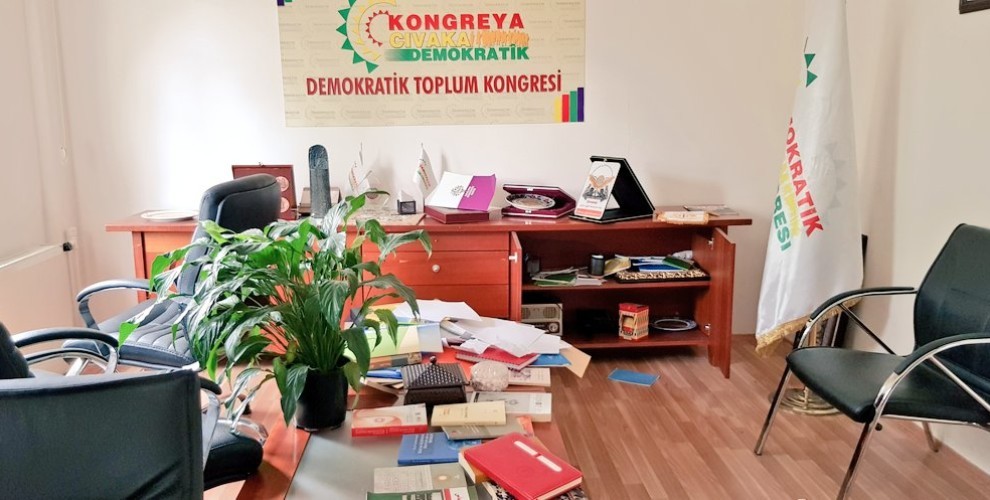 The AKP regime has carried out political genocide operations against Kurds in various provinces this morning. Over 100 people have been detained in the operations, including journalists and politicians.
The Turkish Interior Ministry confirmed the political genocide operations in Amed, Istanbul, Sirnak, Van, Urfa, Batman and Mersin and announced that some 90 people have been detained.
This is just the balance of the day. Looking at the last 4 days, the count rises to some 250 people in custody.
The extent of the operations grows in parallel with Turkish President Tayyip Erdogan's speeches. Erdogan targeted the Kurdish people and the HDP, and announced that they will be targeting each and every Kurd who doesn't bow down to his dictatorial regime. The message was driven home over the local elections. Erdogan said, "If people involved with terrorism come out of the ballots, we will do what is necessary, appoint trustees and continue on our path."
AMED
Turkish police carried out house raids with armored vehicles, broke down doors to enter residencies and arrested dozens of politicians and journalists.
The police also broke down the door and windows of the Democratic Society Congress (DTK) offices and conducted a search in the building. Reports say the number of detentions may rise.
Names of the 63 people who have been detained are as follows:
- Journalists Kibriye Evren, Abdurrahman Gok, Semiha Alankus, Esra Solin Dal
- DTK Co-presidential Council Members Hasan Huseyin Ebem, Mehmet Nuri Ozdemir, Huseyin Kaya, Hilmi Aydogdu, Adnan Akgul
- DTK Permanent Council Member Ruken Kilic
- DTK worker Vahit Dogrul
- HDP Amed Co-chair Serif Camci
- HDP press office worker Vedat Dag
- HDP Census Member Eylem Ceylan
- DBP Deputy Co-chair Seher Tumer
- DBP Census Member Nevriye Cur
- TJA activists Figen Ekti, Elif Harran, Figen Aras, Mekiye Ormanci
- Sercan Dogan; Selma Metin, Nimet Yurek, Neslihan Karacadag, Aygul Alagunduz, Dilnaz Ekmekci, Ahmet Aslan, Leyla Tekdag, Mukrime Kalkan, Zeki Baran, Pinar Tekin, Engin Babayigit, Sehmus Karayal, Zehra Ozdemir, Mehmet Ay, Muazzez Canpolat, Rifat Roni, Leyla Ayaz, Sati Hayme, Kadriye Ozcanli, Mehmet Temizyuz, Evindar Aydin, Zana Doner, Mahir Koyun, Nalan Ozaydin, Muzaffer Ulas, Mehtap Metin, Abbas Aslan, Necdet Sezgin, Sema Koc, Veysel Ozekti, Emrullah Kalkan, Pinar Sirnac, Mehmet Akdogan (writer), Hatice Sen, Derya Aslan, Selda Erten, Habibe Ekinci, Halise Yavuz, Hasan Cicek, Savas Aslan (newspaper distributor), Hayat Ozmez (newspaper distributor)
- Siyajin, last name unknown
VAN
6 people have been detained in simultaneous house raids at 13 addresses, and the police are searching for 7 others in Van's Caldiran district.
Names of people detained after the police entered their residences by breaking the doors down are Haci Darak, Sakir Topcu, Mustafa Kaya, Seyithan Acar, Fevzi Uzunay and Semsettin Acar.
HDP District Co-chair Ali Ihsan Tas, district administrators Selami Koc, Cengiz Koc, Faruk Trak and Nevzat Uzunay's homes were raided but they weren't found at the addresses.
BATMAN
8 people including HDP Batman Chapter Co-chair Nizamettin Toguc were detained in house raids on October 6. 5 of them were referred to the court on Monday evening.
All 5 HDP members who were referred to the court with a demand for their arrest have been arrested on allegations of membership to a terrorist organization.
A confidentiality order has been issued for the case and no details could be obtained on the allegations. Toguc and two others are expected to be referred to court today.