European lawyers: CPT must go to Imrali immediately
Lawyers, who applied to the Ministry of Justice to allow a visit to Kurdish people's leader Abdullah Öcalan, said that the CPT should go to Imralı immediately and emphasized that "there is torture there".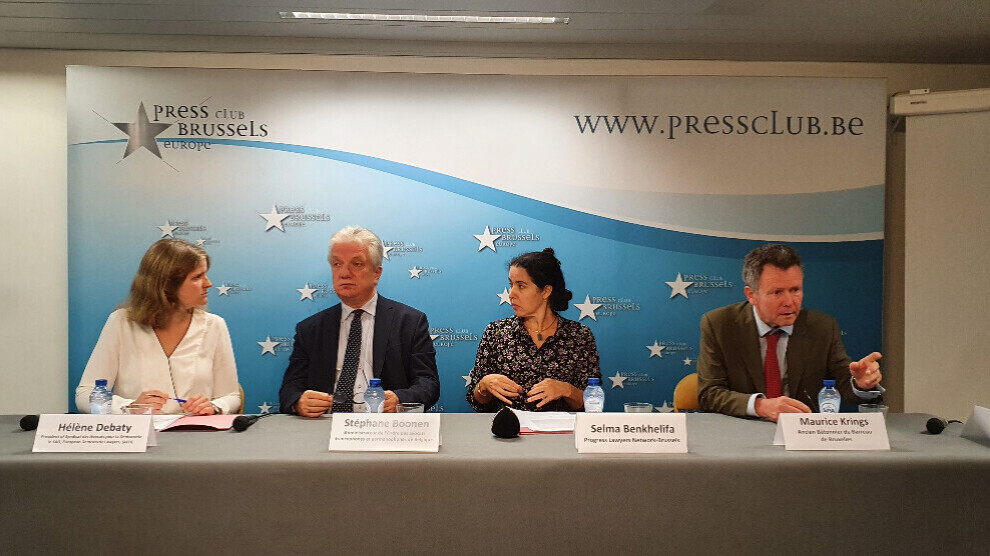 350 lawyers from 22 countries in Europe applied to the Ministry of Justice, requesting a meeting with Kurdish people's leader Abdullah Öcalan, who is held in Imrali F Type High Security Prison, under heavy isolation conditions.
European lawyers European Association of Lawyers for Democracy & World Human Rights (ELDH) held a press conference via Zoom and repeated their application after Öcalan was not allowed to meet with his lawyers.
Lawyer Ceren Uysal, who was the moderator of the meeting, emphasized that the isolation caused concern for the whole society, and stated that lawyers both in Turkey and in Europe made applied many times to the CPT and related institutions. Uysal said that the press conference was to share with the public why they made these applications.
'Isolation should end immediately'
Barbara Spinelli, co-chair of ELDH, said that it is seen that the prisoners in Imrali are the ones whose rights are violated the most in the world. Pointing out that they made an application to visit Imrali because of the violations, Spinelli said: "This violation must be stopped immediately. ELDH members and member institutions also took an active role. We need to ensure that the illegality of the isolation policy is brought up on every platform and that every professional organization can apply. With this application, we wanted to remind Turkey of the obligations it has to comply with. We wanted to remind Turkey of Mandela's rules. This is why we made this application, but we do not expect a response from the minister. Our colleagues from all over the world signed this letter. We demand that the lawyers of Abdullah Öcalan and the other detainees held in isolation in Imralı be allowed to do their duties immediately."
Afterwards, ELDH Secretary General Thomas Schmidt noted that they wanted to receive a response from the Ministry of Justice and read the letter sent to the Turkish Interior Minister.
The letter said: "Abdullah Öcalan, Ömer Hayri Konar, Hamili Yıldırım and Veysi Aktaş, who are detained in the İmralı F-Type High Security Prison, are unlawfully prevented from seeing their lawyers. While Abdullah Öcalan has not been allowed to see his lawyer since August 7, 2019, Veysi Aktaş, Hamili Yıldırım and Ömer Hayri Konar have not been allowed to see their lawyers even once since 2015, when they were transferred to İmralı Island.
A special and discriminatory form of isolation has been applied in İmralı Prison since February 15, 1999. The ban on lawyer visits has been in effect continuously for 8 years since July 27, 2011, until May 2, 2019. In 2019, 5 lawyer visits took place. After the last lawyer visit on August 7, 2019, the ban was resumed."
The letter also said: "In its report on its 2019 visit to the İmralı Prison, published on 5 August 2020, the CPT considered the total ban on Öcalan's and the other three inmates' contacts with the outside world as a type of incommunicado imprisonment. The CPT stated that such a state of affairs was unacceptable and contravened relevant international human rights instruments and standards.
The continuous interference with the right to defense and the state of isolation imposed on Öcalan and the other inmates have prompted statements by international law organizations such as ELDH, AED, and Lawyer for Lawyers and critical reactions by a wide network of lawyers on different occasions."