Kurdish hunger strike in Vienna in Austrian media
Austrian media has been providing extensive coverage of Sivan Agaoglu and Sultan Yigit's indefinite nonalternating hunger strikes that started 10 days ago.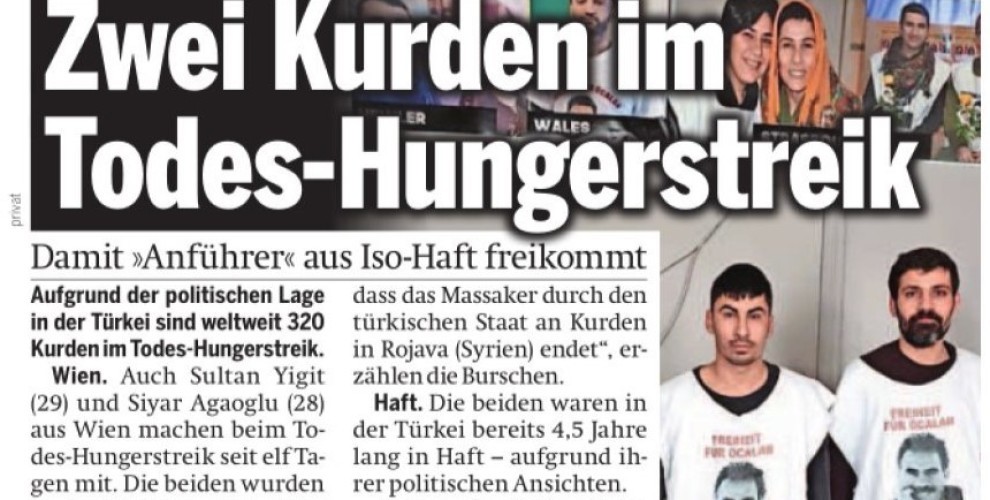 Sivan Agaoglu and Sultan Yigit are on day 10 of their indefinite non-alternating hunger strike in the Democratic Kurdish Society Center in Vienna demanding an end to the isolation imposed upon Kurdish People's Leader Abdullah Ocalan in Imrali.
Popular Austrian newspaper Osterreich reported extensively on Agaoglu and Yigit's protest against the isolation in its Monday issue. The article titled "Two Kurds on a death fast" pointed out that 320 Kurds around the world are on death fasts due to developments in Turkey.
The paper pointed out that both hunger strikers have spent time in prison in Turkey and highlighted the following message from Agaoglu and Yigit: "We want our leader Abdullah Ocalan who has been under a strict isolation for years to be free. We also demand an end to the Turkish state's massacres in Rojava and human rights violations in Turkey."
The article mentioned Siyar Agaoglu's 62 year old mother, who is currently in prison, and included his quote, "We will continue our protest until our demands are met. If they are not, we are prepared to die."