Munich police chief chummy with Turkish nationalists
Munich Chief of Police Hubertus Andrä has been meeting with representatives from pro-AKP and MHP Turkish organizations.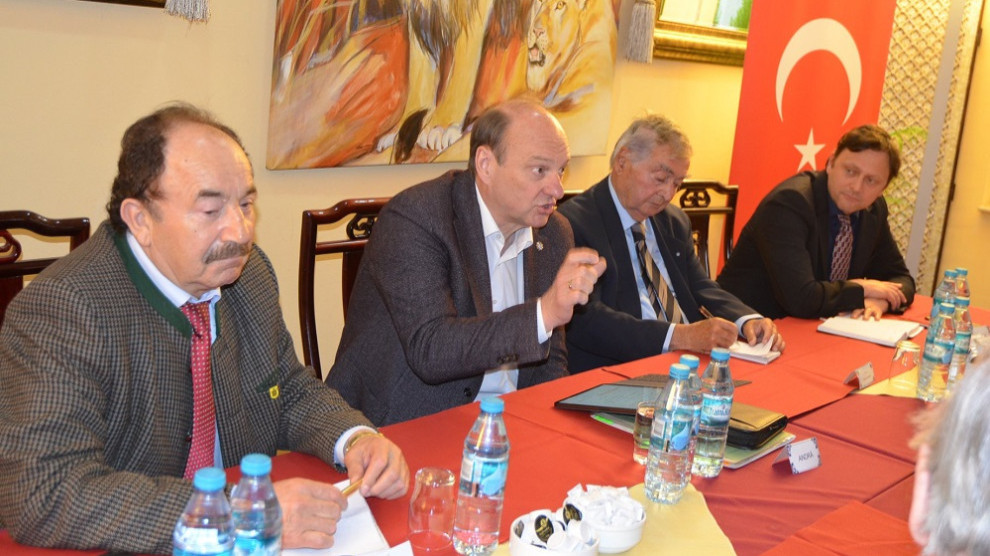 Munich is at the top of the list when it comes to criminalization policies against Kurdish and German activists, and the right wing/conservative government's fascination with Turks has been documented once again. Munich Chief of Police Hubertus Andrä met with representatives from pro-AKP and MHP organizations in the Goethe Hotel yesterday.
Turkish flags and photographs of Turkish President Recep Tayyip Erdogan were put up by the entrance of the hotel before the Chief of Police held his meeting with Turkish nationalists. Chairmen and administrators from Turkish nationalist organizations in Munich and the state of Bavaria attended the meeting.
One of the attendees was Turkish Associations Coordination Council's (TUDEK) President Mahir Zeytinoglu, who sat next to Chief of Police Andrä. TUDEK is a supporter of the AKP-MHP regime, and Andrä reportedly spoke about their cooperation between them and the Turkish Embassy and police force.
MUNICH POLICE IS FAMOUS FOR HOSTILITY AGAINST KURDS
Bavaria's capital Munich, a city on its way to a "police state", stands out with its policy to criminalize activists who show solidarity with the Kurdish freedom movement, citing YPG/YPJ flags and photographs of Kurdish People's Leader Abdullah Ocalan as an excuse.
Police units under the Munich Security Directorate have been raiding homes of persons who post YPG/YPJ flags on their social media, especially in the last two years. The city's police and prosecutors file lawsuits against many activists, most of which are overturned into fines by the local courts.
RELATED NEWS: