Munich police investigate Mazlum Dogan's photograph
The Munich Police, in their endless intolerance against Kurdish symbols, launched another investigation citing the banner with Mazlum Dogan's photograph on it as an excuse this time.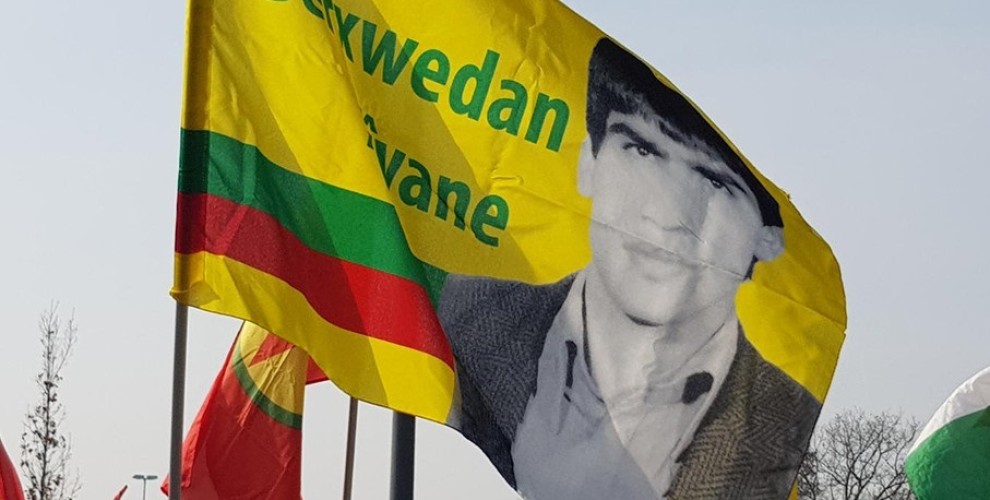 The German state continues policies of criminalization against Kurdish symbols. Bavarian police in particular have been implementing prohibitionist practices against YPG and YPJ flags and Kurdish People's Leader Abdullah Ocalan's photographs, and police units in state capital Munich have now shown intolerance against a photograph of Mazlum Dogan, a symbol of the Kurdish people's struggle for freedom.
During the Newroz celebrations in Munich last week, Kurdish activist Azad Yusuf Bingol held a banner that had the photograph of Mazlum Dogan, leading PKK cadre who was martyred in the Diyarbakir Prison on March 21, 1982, and read "Berxwedan Jiyane" [Resistance is Life]. The Munich Police launched an investigation against Bingol immediately after the event, citing Mazlum Dogan's photograph as an excuse.
"OPPRESSION CAN'T INTIMIDATE ME"
The police alleged that Mazlum Dogan's photograph is PKK propaganda and called the Kurdish activist in for questioning. Azad Yusuf Bingol's home had been raided before for waving YPG/YPJ flags and he has been subjected to several investigations. Bingol has taken legal action against the police through his lawyer.
Bingol spoke to the ANF about the most recent police investigation and said: "The oppression and investigations can't intimidate me. I am calling on the police to stop launching investigations against me in every event they see me at with some excuse." Bingol said he held the banner in question while he was jumping over the Newroz bonfire: "Mazlum Dogan is the modern day Kawa who launched the Newroz resistance. I will continue to carry his photograph with pride, despite the bans and investigations."
Bingol said the domestic intelligence institution, the Federal Office for the Protection of the Constitution, sent the Munich Foreigners' Police a folder on him. Bingol continued: "When they understood that I wouldn't step back due to the investigations and fines, they sent a folder about me listing everything I've been up to in the last 10 years, asking for my residency permit to be cancelled. I learned that they included a photo I took with Sakine Cansiz, the Kurdish female revolutionary murdered in Paris in 2013, in the investigation file as evidence."
PROHIBITIONIST PRACTICES IN PLACE IN BAVARIA
Police units and courts in Bavaria, which has the most conservative and right wing government in all of Germany, target individuals showing solidarity with YPG and YPJ. Most recently, 80 years old Claus Schreer was issued a 2.800 Euro fine for holding a "Freedom for Ocalan" sign with Ocalan's photograph and the YPJ flag.
Bavarian police have banned YPG flags and have been raiding homes of individuals who posted YPG flags or photographs of YPG fighters on their social media, but despite the oppression, investigations and bans, German activists in particular are showing greater and greater interest and support for the Kurdish Freedom Struggle. The Munich police had recorded this support in their reports last year.