RTS highlights Turkey's war crimes in northern Syria
The Swiss TV said that civilian massacres perpetrated in northern Syria were under Turkey's responsibility.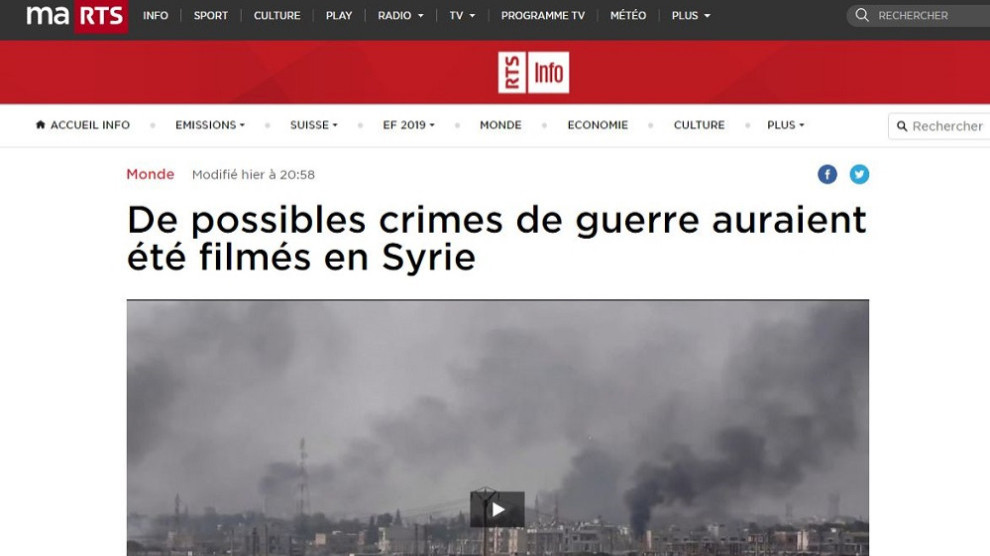 Swiss State Television (RTS) called attention to the war crimes committed by the Turkish state in North and East Syria at Tuesday's evening's main news bulletin.
The report by Olivier Kohler and Laurent Burkhalter included footage circulated by Turkish-backed gang groups on social media, saying that these could be an evidence to the war crimes committed in the region. The news also cited the reports and statements of the Amnesty International and UN Human Rights Council on the matter.
RTS also showed images of YPJ fighter Çiçek Kobane taken captive by Turkey's gangs, adding that the fate of the Kurdish female fighter remains unknown since she was taken to Turkey.
Showing the footage of the barbarity committed on the dead body of an SDF fighter, the report noted that Kurdish politician Havrin Khalaf was also murdered by these gang groups.
Remarking that these civilian massacres were under Turkey's responsibility, the report said it was Turkey that needed to control these mercenary groups.
RTS pointed out that these groups acting with the Turkish state were an extension of jihadist terrorist groups like ISIS and al-Nusra, adding that Turkish officials refused to talk to the TV on the matter.