Strasbourg vigil activists condemn KDP collaboration with Turkey
During the sit-in action in front of the Council of Europe in Strasbourg, information dossiers have been handed over to the member countries. A statement was made at the rally site against the Turkish-KDP cooperation.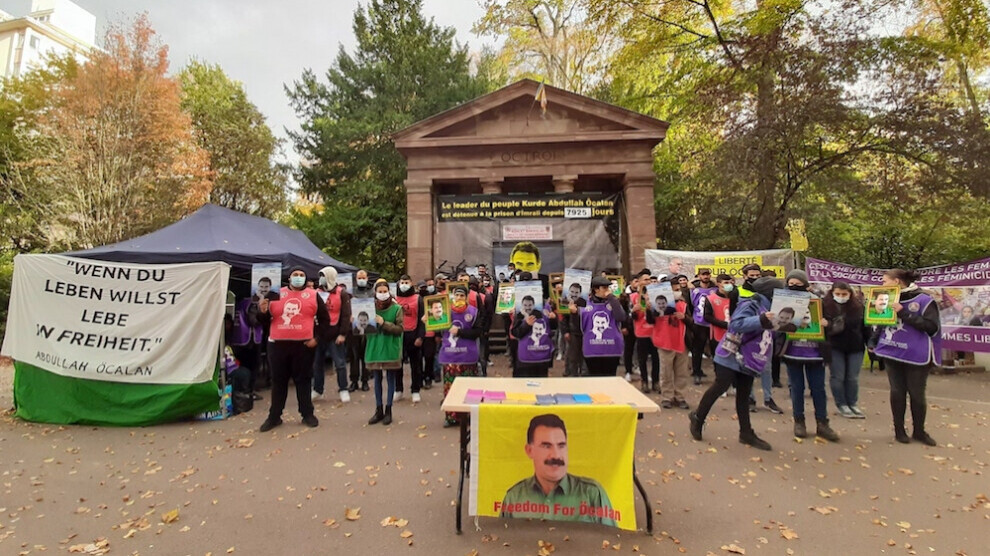 The vigil launched on 12 October in the French city of Strasbourg to protest the silence of the international public opinion against the isolation imposed on Kurdish People's Leader Abdullah Öcalan, continues in its last week. Kurdish youth and internationalists have taken over the vigil this week after the Kurdish Women's Movement in Europe (TJK-E) and the European Democratic Societies Congress (KCDK-E).
Kurdish and internationalist youth handed over information dossiers on the topic to the permanent representations of the Council of Europe member countries today. The paper deals with the total isolation of Abdullah Öcalan, the history of his deportation to Turkey 21 years ago, his struggle and his political ideas.
In handing over the dossiers, the young activists also point out the inhumane conditions of detention of political prisoners in Turkey and especially in the island prison of Imrali.
Treason as a means of self-destruction in Kurdish history
A statement was made at the rally site in front of the Council of Europe on the acts of Barzani's party KDP in Southern Kurdistan. The activists condemned the KDP's collaboration with Turkey and said: "As Kurdish people, we are in a historical reckoning process with Turkish colonialism and fascism. Exactly at this time, the betrayal that has always led to the greatest losses in Kurdish history is being imposed on us again."
Concerning the deployment of peshmerga units of the KDP in Gare area after Zînê Wertê, the statement said; "To decide to gather military forces in guerrilla areas on the anniversary of Heval Bêrîtan's death can only be done by those who want to attack this struggle instead of contributing to it."
The youth has a clear stance on the troops concentration in Gare and the related attempt to foment an internal war in Southern Kurdistan, according to the statement, which called on the Kurdish youth living in Europe to unite and protest against the attacks.
RELATED NEWS: