Yazidis organize vigil for Shengal in Germany
To protest the agreement between Baghdad and Erbil governments against Shengal, Yazidi institutions in Germany launched a vigil near the German Federal Assembly.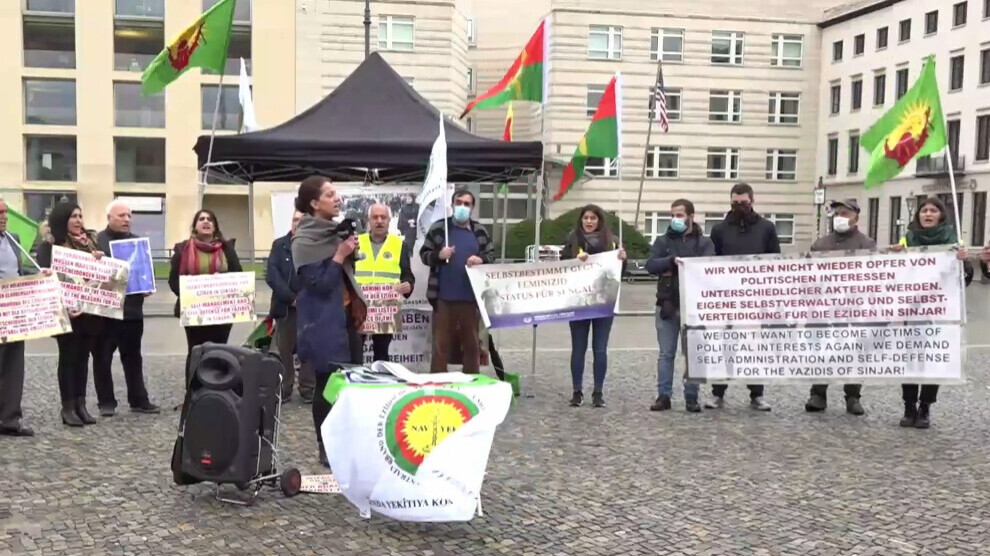 The reaction of the Yazidi community to the agreement between the central Iraqi government and the Southern Kurdistan Regional Administration regarding Shengal (Sinjar) continues. Many Yazidi institutions and organizations in Germany started a vigil at Brandenburg Tor (Brandenburg Gate) Square near the Federal Assembly in Berlin to announce to the world that they would not accept the agreement.
The vigil started with a press release today at noon. The vigil is carried out by the following organizations: the Center of the Union of Yazidi Associations in Germany (NAV-YEK), the Federation of the Yazidi Women Assembly (SMJÊ), the Shengal Council in Diaspora (MŞD), the Syrian Yazidi Union (YÊS), the Yazidi Youth Union (HCE), Êzidxan Cultural Center (NÇE), Northern Kurdistan Yazidi Villages Assembly Coordination (KMGÊBK).
"WE DO NOT ACCEPT THE AGREEMENT"
On behalf of the Yazidi institutions, Çiçek Yıldız, co-chair of the Center for the Union of Yazidi Associations (NAV-YEK) in Germany, made the press statement. Stating that they will not accept the agreement made by the Hewlêr and Baghdad governments regarding Shengal, Yıldız stated that as Yazidi organizations, they will make attempts in diplomacy to cancel the agreement.  
Pointing out that many circles regard the agreement as a betrayal to the Shengal and Yazidi community, Yıldız said, "This agreement, which has no legal aspects and violates human rights, does not serve the Yazidi community in any way. We will fight with all our strength to prevent this agreement from being implemented."
Calling on the German government, western countries and international powers to take action in order for the Yazidis to live as an independent and free society, Yıldız called upon the peoples to support their actions.
The press conference, in which the joint statement of the Yazidi organizations in Kurdish and German was read out, ended with short speeches by the representatives of the Kurdish institutions and the organizations, which promote demands of the Yazidis. The vigil, which will continue until October 23, takes place between 10:00 and 15:00 every day.