Young activists to end Long March with concert in Aachen on Saturday
The Long March, launched by Kurdish and internationalist youth in Cologne demanding freedom for Kurdish people's leader Abdullah Öcalan, ended with a grand finale in Aachen.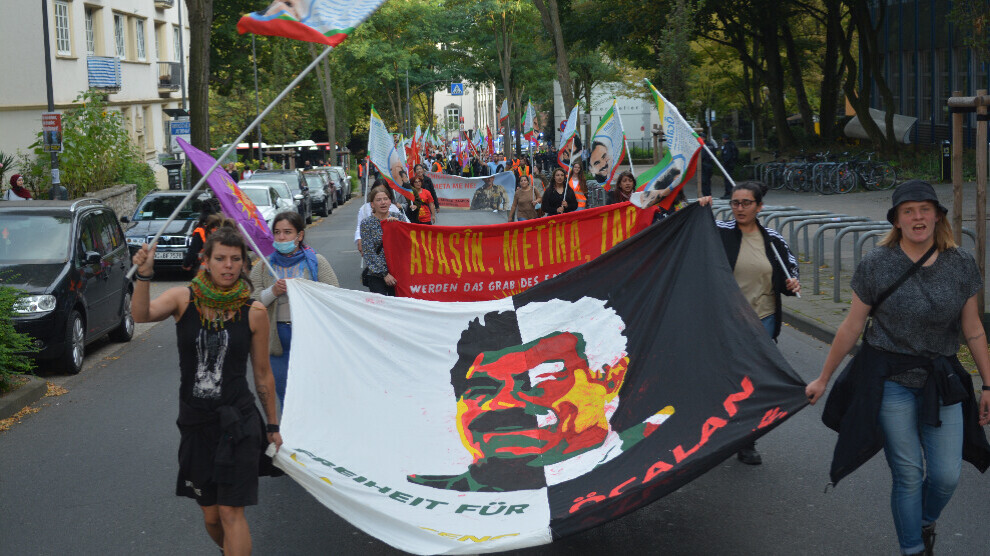 The traditional annual Long March organized in Europe this year took place with the slogan "Dest Bi Dest-Mil Bi Mil; Werin Cenga Azadiyê". The Long March started in Cologne and ended in Aachen. Hundreds of young people from Germany, France, Austria, Sweden, the Netherlands, England and Switzerland joined the action. During the 6-day march, young people defused the provocation by racist mobs and the German police and eventually reached Aachen on Thursday night.
Meeting in Aachen
Young Yekîtiya Xwendekarên Kurdistan (YXK) and Jinên Xwendekar ên Kurdistan (JXK) activists held a meeting at the Aachen Democratic Kurdish Community Center (DKTM) on "The Truth of Leadership" and "The Meaning of Leadership". A text by Koma Civakên Kurdistanê (KCK) Executive Council co-chair, Cemil Bayık, on the Truth of Leadership was read. After the reading and evaluations, young people organised a quiz game in groups. The winning group was awarded a book.
Visit to Aachen university
A committee consisting of YXK and JXK submitted a file to the Aachen University Chemistry Department, which carries out the work on chemical weapons used in Kurdistan and also provided by German companies.
March in the city center
After visiting the university, young people held a march in the city center of Aachen. The isolation of Abdullah Öcalan was exposed in the German leaflets handed out by activists.
Invitation to concert
Young people also invited people to a concert that will be held on Saturday in Aachen, featuring Serhado, Bengî Agirî and TEV-ÇAND artists. The concert formally ends this year's Long March.
Activists attacked by police and racist mobs
A provocative attack took place in Aachen against the Long March, on Thursday night. One activist was injured and had to be taken to the hospital.