Thousands protested the occupation of Afrin in Shehba
Thousands took to the streets everywhere to protest the invasion of Afrin by the Turkish military on the first anniversary of the occupation.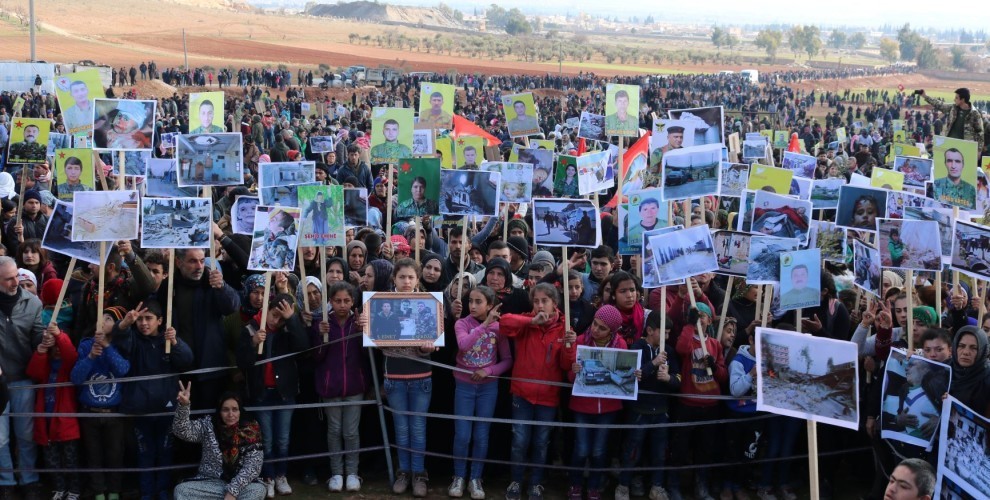 At 4 pm on 20 January, 2018, Turkish military warplanes began their occupation attacks by targeting civilians, historical sites and public buildings in Afrin.
Hundreds of civilians, including women, children and elderly people, lost their lives and hundreds of others were injured in the attacks.
In the first anniversary of the invasion and genocide attacks, hundreds of thousands of people from Afrin and Shehba, Northern and Eastern Syria, and hundreds of thousands of people from all over the world are protesting the invasion carried out by the Turkish state.
The people also reiterated their determination to liberate Afrin.
In Shehba, shop keepers shut down their shutters while people marched around the shopping area.
Photographs of the fighters Barîn, Avesta, Karker, Qehreman and Sîpan who were martyred during the Turkish army and their mercenary allies' attacks were carried by people along the march.
At the rally which followed the march, Hevîn Muse, Kongreya Star representative of Afrin Canton said: "We will liberate Afrin with the spirit of resistance of Avesta and Barîn. We salute Kurdish People's Leader Abdullah Öcalan, who is resisting in İmralı Prison."
Hesen Koçer, speaking for TEV-DEM, said: "The will of a people educated by Rêber Apo's philosophy cannot be broken. Today we are reiterated this and the people of Afrin in Shehba are stating this very clearly."
The rally ended with the slogan "The martyrs of the Epochal Resistance are immortal."