Şervan Derwêş: We cherish the memory of Ebû Leyla
Spokesperson for Manbij Military Council, Şervan Derwêş, said that they cherish the memory of Ebû Leyla who was one of the symbols of the Kobanê and Manbij battles.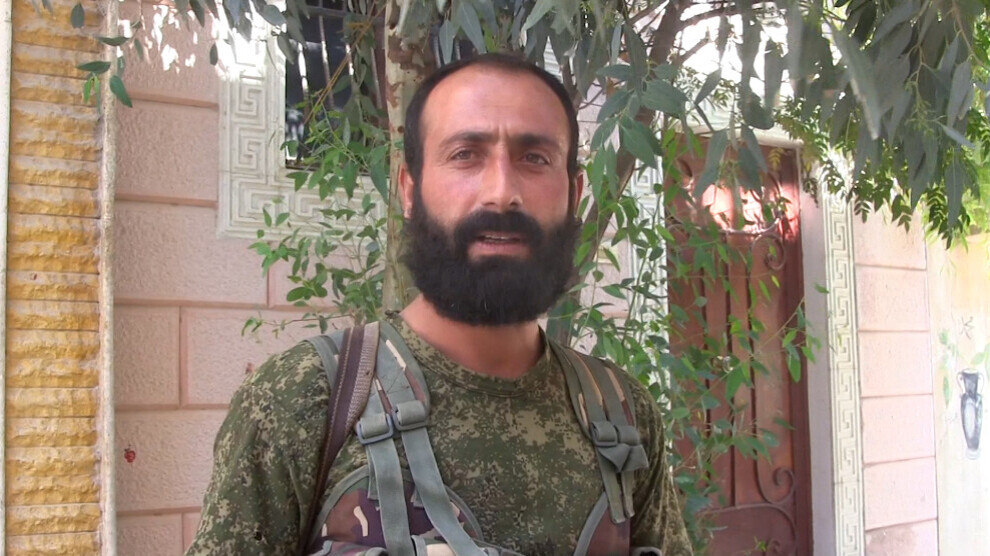 Derwêş stated that martyr Leyla's fellow fighters would continue to struggle until all their lands are cleared of invaders and full freedom is achieved.
Şervan Derwêş spoke to ANF about the martyr Faisal Ebû Leyla on the anniversary of Kobanê's liberation from the occupation. Derwêş said that he had worked in a car repair shop together with Ebû Leyla before the revolution and added that they had been members of the Kurdish Freedom Movement since the 90s like most of the Kurds from Manbij.
Derwêş noted that, born into a patriotic family, Ebû Leyla was a young man known for his deeds and stance at that time. Ebû Leyla was one of the first persons to see the requirement of defence forces in order to defend the people and protect them from ISIS, and one of the first members of the defence forces established following the start of the Rojava Revolution.
HE CONFRONTED DIFFICULTIES
"We can say that the first defence movement in Manbij was launched by Ebû Leyla, Derwêş remarked. "Ebû Leyla led the way in the formation and development of these groups. He was best known for his ability to get things done. He did all the work himself, including organization and development. He had tremendous decision-making power. He used to make decisions, implement them and encourage those around him to act. Anyone who worked with him took strength and courage from him. That's how he was recruiting so many young people and having them fight. He was always in the front line. Wherever there was danger or whenever there was something that no one could do, Ebû Layla was there. He was always there when there was a task that required courage and sacrifice. A person's true personality and courage become visible in difficult times. Ebû Layla was a person who confronted difficulties."
MANBIJ WAS PROTECTED THANKS TO HIM
Derwêş remarked that his group was small, but everyone took him seriously. "When the people of Manbij needed defence forces, Ebû Leyla assumed this task and successfully fulfilled it. The people in Manbij did not experience massacres thanks to him. At that time, ISIS captured Raqqa, Tabqa, Til Eran and Girê Spi and committed massacres. The only place where the Kurds were not massacred was Manbij. When ISIS entered Manbij, the only group that fought them was Ebû Layla's group. Ebû Layla told her friends over the radio at 04:00 in the morning: "I am going to fight ISIS. Anyone who wants to come should join me". Ebû Layla repelled ISIS which attacked Manbij in January 2014. He captured 250 ISIS members. Later, when ISIS attacked Manbij again, all the armed groups affiliated with the Free Syrian Army (FSA) fled and Manbij was captured by ISIS."
HE PLAYED A ROLE IN KOBANÊ WAR, TOO
Derwêş recalled that Ebû Leyla and his fighters remained in Manbij while FSA groups fled to Turkey after the ISIS invasion. Derwêş added that Ebû Leyla was already commanding his troops from Manbij villages to the border at Karakozan and Kobanê. ""When the Kobanê war started, he immediately took part in the clashes. He had experience because he had fought ISIS in Aleppo and many other places before. His willpower was affecting and encouraging everyone. The conflicts he engaged in there were different. He was very disciplined. He had a different way to bolster his fellow fighters. There were no easy defeats in the conflicts he engaged in. He played his role in the Kobanê war, too. He was wounded at Murşitpınar Border Crossing on November 29. Even in the hospital where he was treated, he was calling his troops on the phone on a daily basis. He was receiving the latest information about the fighting. He returned before he was fully recovered. His wounds were severe, yet he knew no obstacles. He was injured 14 times.
HE SAVED HIS TROOPS UNDER SIEGE
Ebû Layla had a great love for his people and country. He always believed that people would return to Manbij. He never lost this hope. When there were only a few streets left to be freed in Kobanê, Ebû Leyla was shouting: 'We will bring victory to these streets'. He never lost his faith in victory. He took his place in the whole preparation phase of the Manbij campaign. He promised us not to intervene directly in any conflict. He was only going to coordinate, but when a group of fighters were surrounded, he did not wait and intervened. After saving the group, he was martyred in a mortar attack while returning. It was the 5th day of the campaign.
HIS TROOPS DID NOT STOP
His martyrdom seriously upset his fighters. He had a dream to eliminate ISIS. After Manbij, his fighters continued to fight to deal a death blow to ISIS in Raqqa, Tabqa Deir ez-Zor and Baxoz. Faisal Ebû Leyla played a major role in the Rojava and north-eastern Syrian Revolution. We, as the Şemsê Şemal fighters, will continue to fight until freedom is achieved in these lands and all our lands get rid of invaders."