Artillery fire destroys cultivated areas in Kobanê
West of Kobanê, more than 80 hectares of wheat fields have been set on fire and destroyed by artillery fire. A total of five mortar shells fired from the Turkish Jihadist occupation zone Jarablus hit the wheat fields.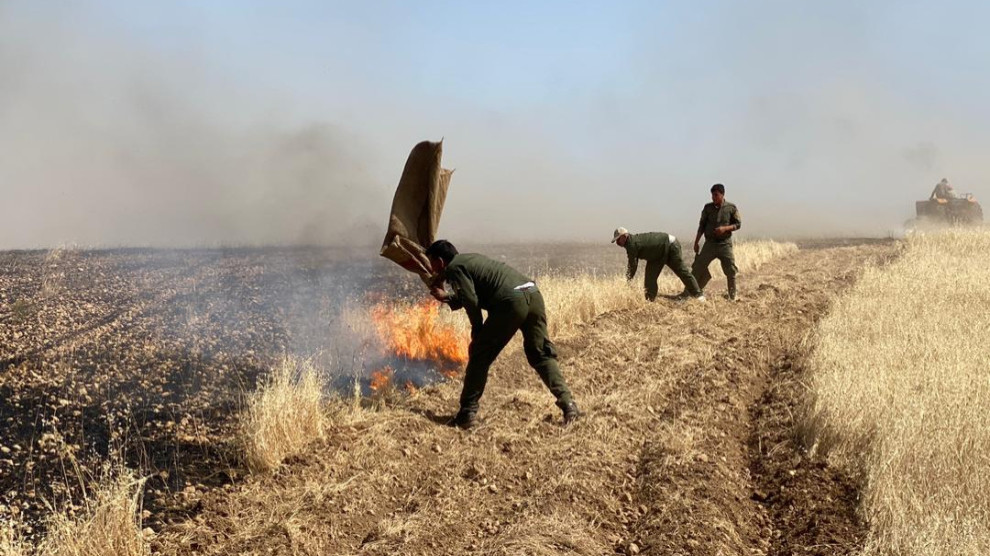 Once again the Turkish army, together with allied terrorist groups, has set fire to wheat fields in northern Syria by artillery fire and destroyed large areas - this time west of Kobanê. A total of five mortar shells fired from the occupation zone Jarablus hit cultivated fields in an area between the village of Zor Mixar and the town of Şiyûx. The flames then spread to cultivated fields in the villages of Bênder, Mişko, Ceqil and Katş. So far, around 82 hectares of land have been destroyed, but the fires have not yet been completely extinguished. The fire department and numerous volunteers are trying to get the fire under control.
On Sunday, a field between the villages of Til Werdê and Merdûda, twenty kilometres north of Ain Issa, had been set alight by targeted artillery fire. The occupation troops also fired on the people from the villages who were trying to put out the fire. At the same time, armoured vehicles circled the burning fields in order to hinder the extinguishing work.
The systematic arson in northern Syria represents a new quality of threat from the occupation forces. The vast majority of the population of Northern Syria lives on agriculture. For this reason, fields and agricultural infrastructure in particular are repeatedly targeted by the Turkish army and its Islamist auxiliary troops.
RELATED NEWS: