Occupiers burn down agricultural land in al-Bab
In a village east of the Turkish-occupied town of al-Bab in northern Syria, Islamist proxies set fire to agricultural land.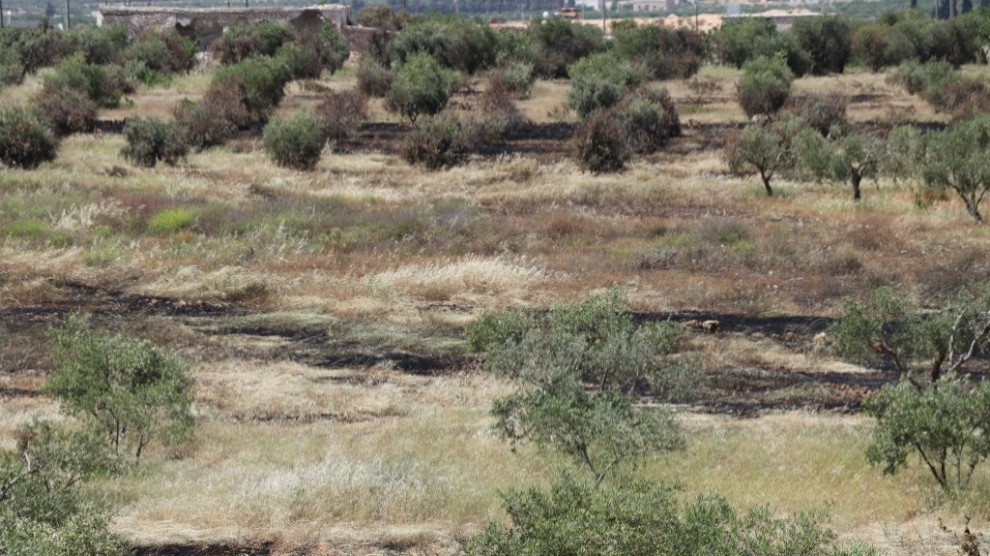 In the village of Şêx Nasir, east of the Turkish-occupied city of al-Bab, Islamist proxies of the Turkish state have set fire to agricultural land. To help the villagers extinguish the fire and prevent it from spreading to other areas, units of the self-organized military council of al-Bab moved out.
According to Baran Arîme of the Military Council, the fire was set by militiamen of the Turkish-backed militia "Euphrates Shield ". Wheat fields as well as walnut and olive plantations were affected.
Arson as a method in wartime
In Ain Issa yesterday, for the second time in just two days, cultivation areas were set on fire by Turkish soldiers and Islamist proxies. On Sunday, Turkish artillery shells hit near the refugee camp in Ain Issa and the villages of Qizelî and Şorbenîşk near Girê Spî (Tal Abyad), setting fire to houses and fields. Due to the wind, the fire quickly spread to the adjacent fields in the villages of Seyda and Mexaloq. Due to continuous attacks and targeted bombardment by the occupation forces, no attempts to extinguish the fire could be made. The people had to watch as their livelihood turned to ashes.
Similar scenes took place west of Girê Spî at the beginning of last week, when a fire broke out due to the targeted bombing of civilian settlements. At first, several houses were burning, then the flames spread to the surrounding fields. The harvest in the villages of Zenubiya and Zey Ereb was completely destroyed by the fire.
The destruction of the economic basis of the people of Northern Syria is part of the expulsion policy and ethnic cleansing of the Turkish state. Arson on arable land is not a new phenomenon in the Turkish occupation zones, but was already established during the invasion of Afrin. Agricultural areas are burned down with the beginning of the harvest season of summer cereals. People and animals are deprived of their livelihood. In many regions there is also a lack of water, as the occupied waterworks in Elok (Allouk) east of Serêkaniyê (Ras al-Ain) have been shut down for the seventh time since the beginning of the year. In addition to the greater Hesekê area with up to one million people, 28 villages in the area between Til Temir and Zirgan are currently without water - and have been so for seven months.
RELATED NEWS: