Autonomous Administration: Turkey created a safe route for ISIS
Abîr Iliya, deputy co-chair of the Foreign Affairs Office of the Autonomous Administration, stated that the Turkish state has opened a safe way for the ISIS to move into the territories it has occupied.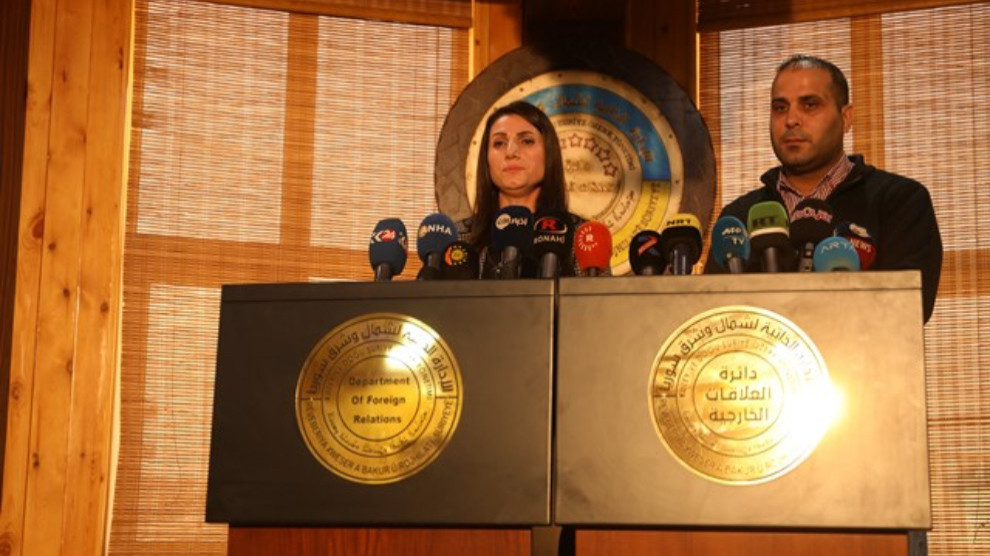 At a press conference in Qamishlo, the Foreign Affairs Bureau of the Democratic Autonomous Administration of North and East Syria warned of further danger from the "Islamic State" (ISIS) in the Middle East and appealed to the international community.  
"Two days after the victory of Syrian Democratic Forces (SDF) over the ISIS on March 23, 2019, the Autonomous Administration called for the establishment of an international court to conduct the trials of the imprisoned ISIS jihadists in the autonomous region," recalled Abîr Iliya, deputy co-chair of the Foreign Affairs Bureau. She pointed out the great danger posed by the thousands of captured ISIS members from 50 states and the tens of thousands of relatives. She called for international responsibility in this context and criticized the fact that the calls for an international court have not been heard so far.
"Turkey has created a safe route for the ISIS"
Iliya continued: "The current attacks have opened a safe route for the ISIS into the Turkish-occupied territories. We have the names of the ISIS commanders in Serêkaniyê (Ras al-Ain) and Girê Spî (Tal Abyad). This development brings with it the danger of the ISIS returning. Despite our limited possibilities, we were able to restore the security of our prisons after the Turkish attacks. In this sense, international commitment is needed, especially to improve the infrastructure in the prisons where the terrorists are held and to enhance the security. In this context, we, as democratic autonomous administration, continue to call for an international court. We need international cooperation, the whole world must take responsibility here".
RELATED NEWS: