Confessions from MIT agents in northeast Syria
Various MIT agents have been arrested in northeast Syria. They say that for money they passed information on military installations and were supposed to carry out attacks.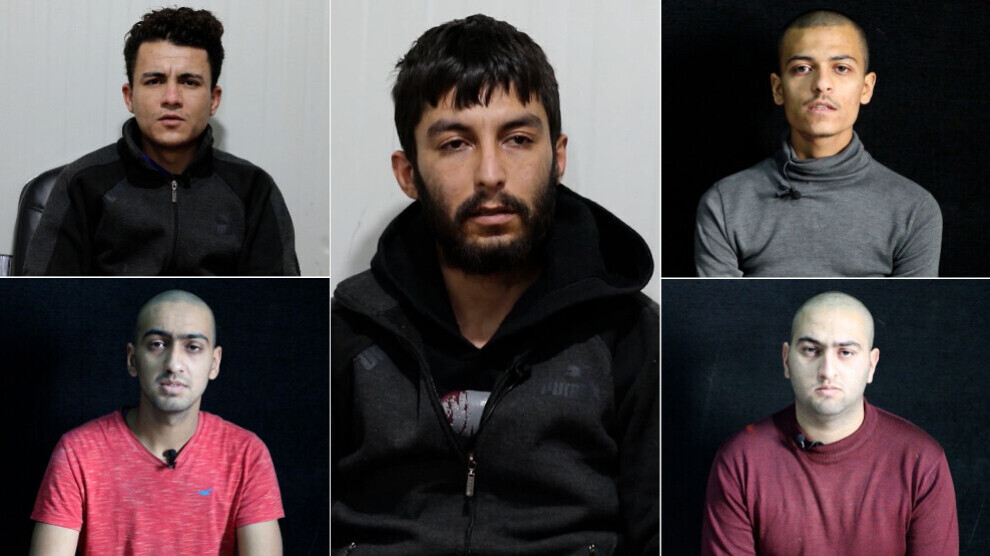 The security forces in Northern and Eastern Syria arrested several agents of the Turkish secret service MIT during the course of this year. MIT uses money and drugs to recruit informers in the region and to install them in facilities of the Autonomous Administration, the Syrian Democratic Forces (SDF) and the security forces and wreak havoc. Attacks are carried out against political, social and military leaders. There is information that a coordination center has been set up in Northern Kurdistan for MIT's activities in Northeast Syria.
ANF ​​has the testimony of five recruited agents who were arrested while working in Dirbêsiyê and Raqqa. Rami Sami Abdal comes from Serêkaniyê and worked as a taxi driver before the occupation. After the invasion, he fled with his family in Hesekê. He was with the SDF for five months. He later moved to Dirbêsiyê and worked as a taxi driver again. There he became the area manager of MIT. Abdal states that he was hired by two people named Lulu and Enes. Lulu's real name is Khaled Bedi al-Sofi, and Enes was an acquaintance of his. They asked Abdal to film military installations in the region, for which he would receive money.
According to Abdal's statement, he complied with this request and received 150,000 Syrian lira, about fifty dollars. He goes on to say: "A little later, Enes sent me a photo. In the photo was SDF member Abdo. Enes wanted me to kill him. After Enes, I was also contacted by Abdurrahman Celud al-Khalaf al-Enkash, nicknamed Abu Celud. He was also from Serêkaniyê and wanted me to contact Hamude Hamza. After talking to Hamude, I sent him a picture of a vehicle and said it was a military officer's car. Hamude said he was sending me an explosive device to attack the vehicle. Afterwards, he would send me $15,000. Then I spoke to my cousin, Ismail Ibrahim, who works for the Turkish Secret Service. I also sent him pictures of facilities in the region. For this I received 300,000 Syrian Lira (around 100 dollars)."
Rami Sami Abdal explains why he was recruited as an agent: "I was with Davud from Dirbêsiyê a lot. We both did drugs. In order to be able to buy drugs, Davud also started working with them. The FSA members in Serêkaniyê knew that I was on drugs. They made me an agent using this."
Davud Baas al-Wadi says that Abdal recruited him as an agent: "He kept in contact with MIT. We filmed military installations in the region together and sent them on. Rami gave me 150,000 Syrian lira for it. I regret that I acted as an agent against my people."
Leys Enes al-Medfe comes from Raqqa and has been commissioned by MIT to wreak havoc in the region. He was arrested by security forces on 13 November 2021. He confessed: "A chat group was set up in which agent Hüseyin Ali Yunus was also a member. That person was responsible for me. He asked me to do a propaganda brochure for the FSA. I was also supposed to film some places in the city. First I created the brochure and observed the impact it had on society. It had influence and I said that I would continue with the work. I contacted a person named Ümran Halef al-Casim. Ümran is now in Turkey. Hüseyin came to me in a white Mazda. The next day we filmed downtown all the way to Naim Square. Ümran published the recordings and the brochure on the Facebook page, Ukhuat Al Saarut '."
His brother Hasan Ali Yunus testified: "I met Ümran Halef al-Casim a year ago. He came to our house often. Once he wanted my phone and photographed a brochure that the Turkish Secret Service had printed for Raqqa. Ümran gave me a memory card with recordings from groups like ISIS and FSA. He said that I should send him the recordings when he goes to Turkey. I did that via Whatsapp.
I regret what I did. I realized that, as an agent, I was damaging the region. The stability of the region is being destroyed. The Turkish state wants to trigger a crisis in the region and is using young people for it."