Confessions of a terrorist cell members dismantled by SDF
The terrorist cell was dismantled through one of the joint security operations conducted by the SDF and the international coalition forces in Al-Karama town, east of Raqqa city.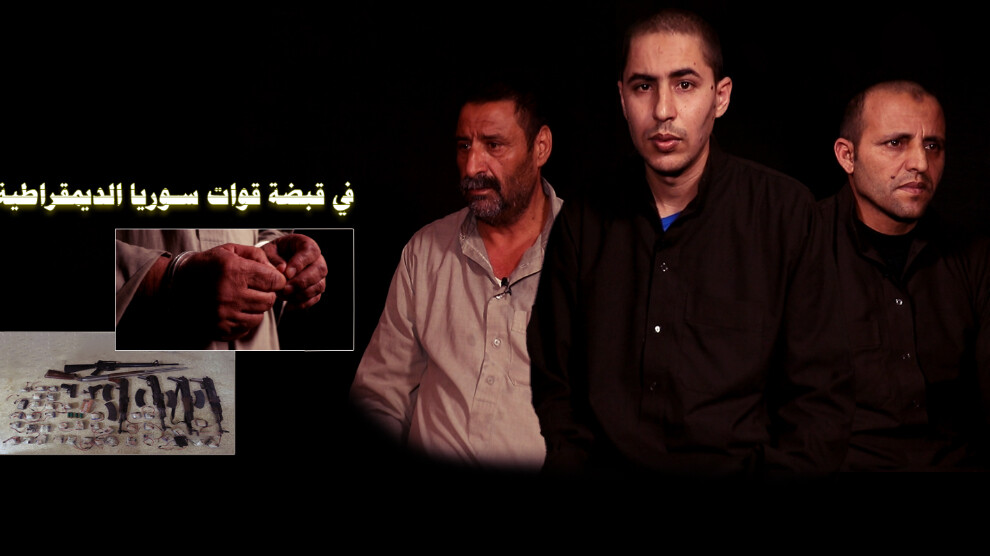 The Syrian Democratic Forces (SDF) successfully dismantled a highly dangerous terrorist cell consisting of three terrorists in May. The cell had been actively engaged in targeting SDF forces by setting up ambushes and planting IEDs on public roads, with the objective of sowing fear and terror among civilians.
These cell members have now provided comprehensive confessions regarding their terrorist operations, and the parties involved in planning and financing their activities, which was published by SDF Media Center on Thursday.
The first terrorist known as "Ammar Muhammad al-Hajju," who was involved in terrorist activities, is from Deir Hafer City, from the village of Ahmadiyya. He confessed, "In 2013, I traveled to Turkey and resided there until 2021. There, I came into contact with an individual named 'Ahmed Abu Al-Majd.' He introduced me to the ideology of ISIS and attempted to persuade me to join their ranks. He provided us with lessons on the organization and the Syrian Democratic Forces, explaining their conflict against ISIS in areas such as Al-Baghouz."
"Afterward, I participated in a three-month training course in Turkey. Then, I was sent to Syria, specifically to the Akhtarin region. From there, I traveled to Azaz before finally arriving in an area under the control of the Syrian Democratic Forces, particularly Al-Karamah town, where I began establishing a cell for ISIS. After a year, I managed to recruit an individual known as 'Khalaf Al-Sayel' into our group. He, in turn, recruited 'Khalaf Shweit and Abu Ali.' Together, we started conducting terrorist acts against the Syrian Democratic Forces," he stated.
The second terrorist is Muhammad Shweet Al-Hussein from Al-Karama town in Raqqa. He said: "I joined ISIS, and it was 'Khalaf' who facilitated my connection with 'Ammar' and shared all relevant information about me. Subsequently, Ammar relayed this information to the Emir of the region."
The third terrorist introduced himself as Khaled Ali Al-Suleiman and stated, "I was born in 1966, and I was residing at Muhammad Al-Shwait's place, and I joined ISIS considering my dire financial circumstances. Al-Shuwait introduced me to Ammar Al-Haju, who served as the leader of our cell."
Accordingly, the terrorist cell was receiving financial and military support from a terrorist known as 'Abdul Salam' who operated from the occupied city of Jarabulus.
Regarding the terrorist acts they committed, the three terrorists admitted their involvement in targeting the military vehicles of SDF forces using IEDs and AK-47 weapons, in addition to targeting the civilians' cars with the aim of intimidating them.

They have admitted to targeting about six military vehicles belonging to SDF forces in addition to targeting one civilian car using IED. Most of the attacks were carried out on the roads in the vicinity of the Raqqa city.
 
The terrorists tried to target a tribal feast in al-Karama town by planting two IEDs on the road. Fortunately, their plan failed, and no civilians were hurt.
Terrorist cell was dismantled through one of the joint security operations conducted by the SDF and the international coalition forces in Al-Karama town, east of Raqqa City.