Euphrates Region Administration declares solidarity with HDP
The Autonomous Administration of the Euphrates Region in North-East Syria condemned the repression against HDP in Turkey.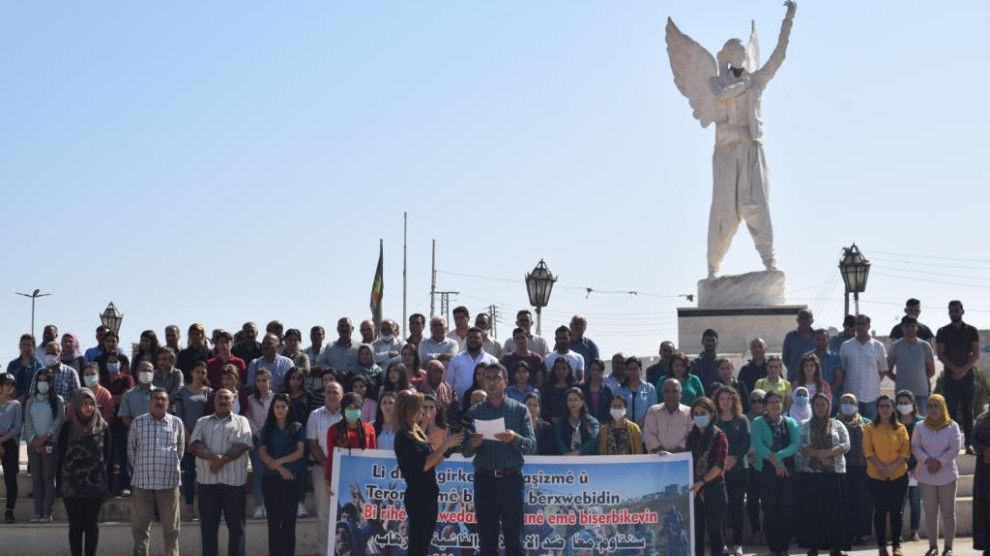 Representatives of the Autonomous Administration of the Euphrates Region, political parties and çivil society organizations gathered at the Free Woman (Jina Azad) Square in Kobanê city center on Sunday made a press statement condemning the Turkish state's latest wave of political genocide against the Peoples' Democratic Party (HDP) in connection with the demonstrations for Kobanê in October 2014. As many as 82 executives and members of the party have been targeted in the operation over the protests staged six years ago.
The statement read by the Nihat Ehmed, co-president of the Euphrates Region Executive Council, said the following:
"The fascist Turkish state, which has provided support for ISIS and all terrorist groups, has issued an arrest warrant for 82 executives, parliamentarians, mayors and members of the HDP who raised their voice in solidarity with Kobanê during the ISIS onslaught six years ago. We stand by those affected and share the same destiny. We have never spared support for our brothers and sisters in other parts. The AKP government, which has gathered mercenary organisations under the new Ottoman flag, is gradually showing its true color.
As the Autonomous Administration's institutions and political parties, we condemn the anti-democratic crimes of the Turkish state and we call on the relevant international institutions and states to take action against the Erdoğan regime since politics is in a deadlock and freedoms are restricted in Turkey."