Families asking for the bodies of fallen guerrillas on day 55 of protest at Sêmalka
For 55 days, relatives of fallen guerrillas have been protesting at the Sêmalka border crossing in Rojava, demanding that the South Kurdistan's ruling party KDP hand over the bodies of guerrilla fighters killed in an ambush by its forces.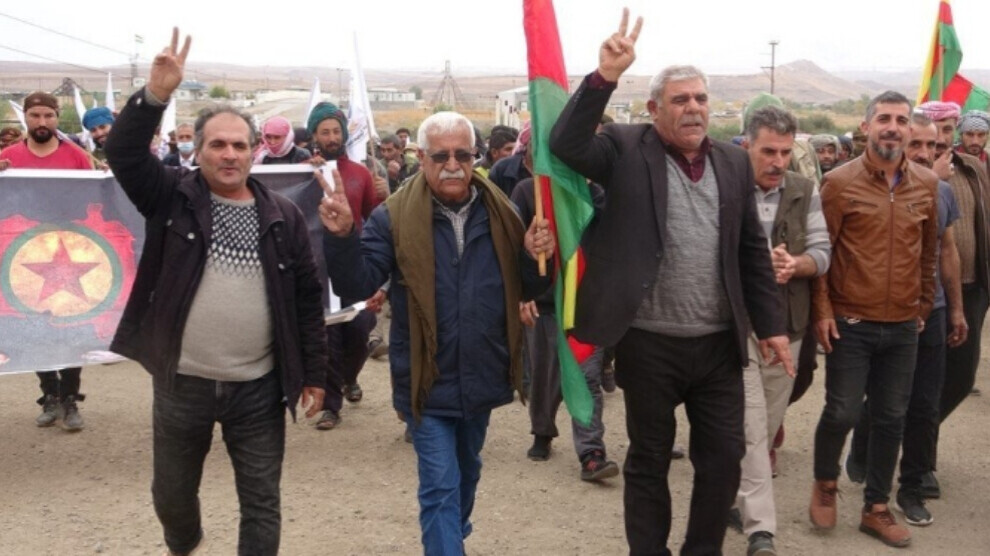 On August 29, seven guerrilla fighters were ambushed by KDP special forces in the southern Kurdish region of Xelîfan. Five guerrillas were killed in the ambush, while two survived. Haki Zîlan, one of the survivors of the attack, reported that the KDP special forces riddled the bodies of the guerrilla fighters with bullets in order to kill any survivors. This qualifies the ambush as an extrajudicial execution and thus a war crime. Although three months have passed since the attack, the KDP is not handing over the bodies of the fighters to their relatives.
Since October 5, a vigil has been held by relatives of the martyrs at the Sêmalka crossing on the border from Rojava to South Kurdistan. The relatives are demanding the remains of YJA-Star commander Nesrin Temir and HPG fighter Yusif Ibrahim, both of whom were from Rojava. The action is supported by the Council of Martyrs' Families in the Cizîrê region. Delegations of mothers repeatedly attempted to reach South Kurdistan to voice their protest; however, they were prevented from crossing the border by the KDP's border troops.
Solidarity visits to the families at the Sêmalka border crossing continued on the 55th day of the protest.
Members of the North-East Syrian Workers' Union have visited the families today and condemned the KDP's betrayal, calling for the immediate delivery of the remains of the guerrillas. The activists saluted the guerrilla forces confronting the fascist Turkish army in South Kurdistan.
In a statement here, co-chair of the North-East Syrian Workers' Union, Şêro Şero, condemned the KDP's insistence on not handing over the bodies and called upon the KDP to give up these conspiracies and cooperation with Turkish fascism.
"The peoples of North-East Syria are brave, strong and democratic. Their demand is unity against Turkish fascism," he underlined.
The statement was concluded with a call upon the South Kurdistan authorities to act with their Kurdish siblings against Turkish fascism.