Field fires in Til Temir and Zirgan spread
Field fires set by occupying forces continue to rage in the self-governing areas of northern Syria.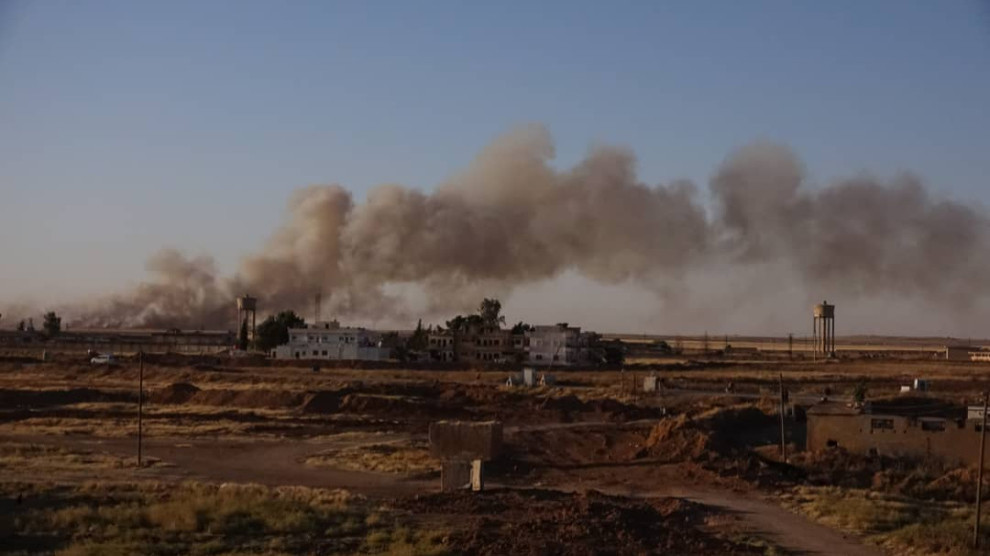 In the autonomous region of northeast Syria, field fires caused by targeted artillery fire from the Turkish-Islamic invasion forces continue to rage. In Til Temir in particular, where grain fields have been burning for days in the north-western villages of Qasimiyê and Rihaniyê, and in Zirgan (Abu Rassan) south of the occupation zone of Serêkaniyê (Ras al-Ain), the fires are spreading ever further.
In Zirgan, the fire brigade and volunteers were able to halve the flames in the village of Menax. But first gusts of wind and then further artillery attacks ensured that the fire spread again strongly in the early evening. The fire in Til Temir has now reached the hamlet of Çêlekan on the road towards Serêkaniyê. Here it is not possible to fight the flames at all, because the fire brigade is repeatedly attacked by Turkish-backed proxies.
Also the field fire in the not completely Turkish occupied district of Sherawa in the Afrin canton could still not be extinguished. The wind conditions are still unfavourable, relaxation is not in sight. In the neighbouring canton of Shehba, artillery shells hit the villages of Hisiyê, Hesecik and Semûqa and the Shehba dam in the evening. It is not yet clear whether cultivated land there also caught fire.