Funeral of SDF and YAT Commander Jiyan Tohildan attended by thousands in Aleppo
The funeral of SDF and YAT Commander Jiyan Tohildan was attended by thousands in the martyrs' graveyard in the neighbourhood of Şêxmeqsûd.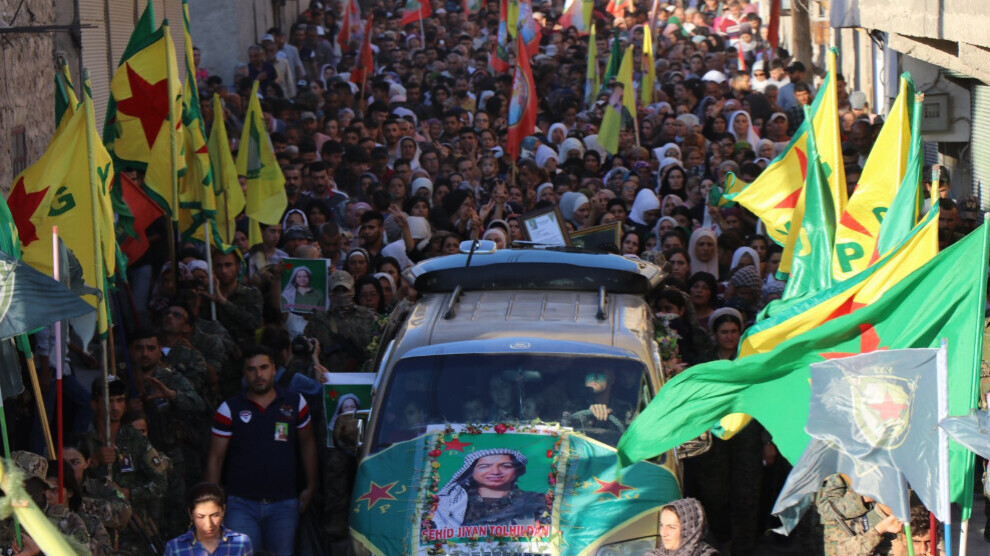 Thousands of people in Aleppo bid farewell to SDF and YAT commander Selwa Yusif (Jiyan Tohildan).
The people accompanied the remains of martyr Jiyan Tohildan from Xalid Fecir Hospital to Şêxmeqsûd and Eşrefiye Martyrs' Graveyard in the neighbourhood of Şêxmeqsûd.
A military ceremony was held at the graveyard by YPG and YPJ fighters, and a minute's silence was observed.
YPG and YPJ General Command, Commander Rohilat Afrin, Aleppo Martyrs' Families Council member Roşan Mihemed, and Martyr Jiyan's mother Asya spoke at the ceremony.
Rohilat Afrin commemorated all the martyrs of freedom and promised to avenge martyr Jiyan Tolhildan.
Noting that Martyr Jiyan never lost her will to fight despite the constant attacks on the gains of the revolution, Rojhilat Afrin said that the revolutionary struggle continues thanks to thousands of people like Comrade Jiyan.
Talking about Martyr Jiyan's struggle, Rojhilat Afrin emphasized that she took part in important campaigns from the first attacks on Serêkaniyê to Aleppo, such as Hol camp, Shengal, Martyr Rubar Campaign and the liberation of Manbij and Deir ez-Zor.
Rohilat Afrin said: "The foundations of the revolution were laid by Jiyan and her friends. This revolution was victorious. Our revolutionary struggle will continue to achieve its goals."
Rojhilat Afrin paid tribute to martyrs Roj Xabur and Barîn Botan and said: "Both our comrades sacrificed their lives for their belief in the revolution. Now we are stronger than before. We will continue our struggle and resistance against the invaders with the spirit of leader Abdullah Öcalan's philosophy."
'International Coalition responsible for the attacks'
Rojhilat Afrin said: "The International Coalition is responsible for these attacks, which violate the airspace of the region under its control."
'Jiyan followed her martyr brother Ali'
Martyr Jiyan's mother, Asya, said that Jiyan followed in the footsteps of her brother Eli, who fell as a martyr to protect the revolution.
Jiyan's mother promised to follow the path of the martyrs until the physical freedom of Leader Abdullah Öcalan is achieved and the martyrs of freedom are avenged.
After the speeches, Martyr Jiyan Tolhildan was buried.