HRE fighter martyred in Afrin
HRE fighter Şoreş Efrîn died on March 21 in resistance against the Turkish occupation of Afrin.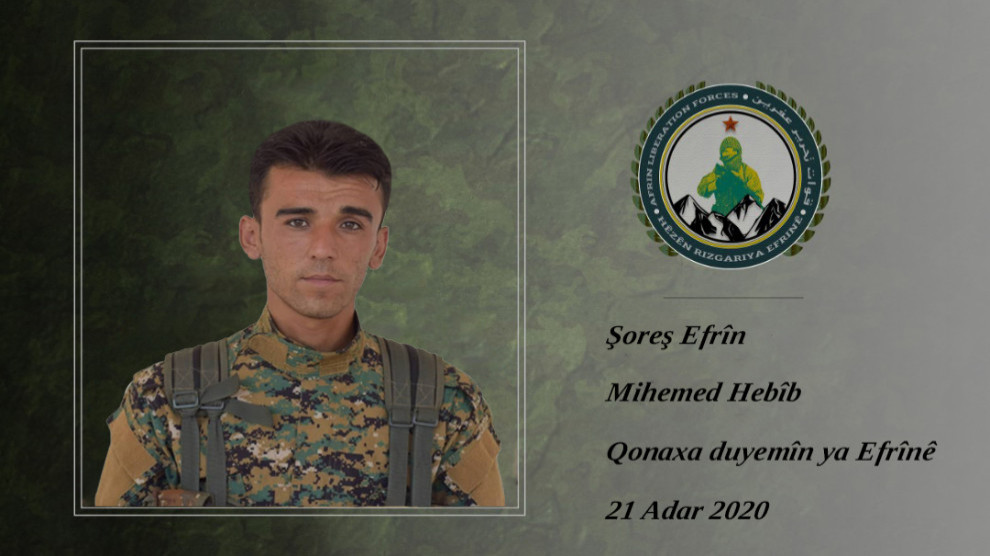 Afrin Liberation Forces (Hêzên Rizgariya Efrînê, HRE) announced the martyrdom of their fighter Şoreş Efrîn.
The HRE statement said: "Our fighter died in the second phase of the resistance of Afrin on March 21. Şoreş Efrîn was born in a patriotic family environment in Afrin. He took part in our fight against occupation and genocide until the last moment and was an honorable fighter. He was committed to the peoples' revolution for freedom and democracy, opposed all forms of oppression and cruelty and joined the caravan of the martyrs."
Nom de Guerre: Şoreş Efrîn
First and Last Name: Mihemed Hebîb
Mother's Name: Alya
Father's Name: Mihemed
Place of birth: Afrin
Date and Place of Martyrdom: 21 March 2020, second phase of the Afrin resistance
The HRE commemorated all the martyrs in the person of Şoreş Efrîn and expressed their condolences to the families.