ISIS women in Hol Camp organize war courses for children
ISIS women in the Hol refugee camp organize war courses for children to prepare a new generation of radical fighters that would threaten the world and the region.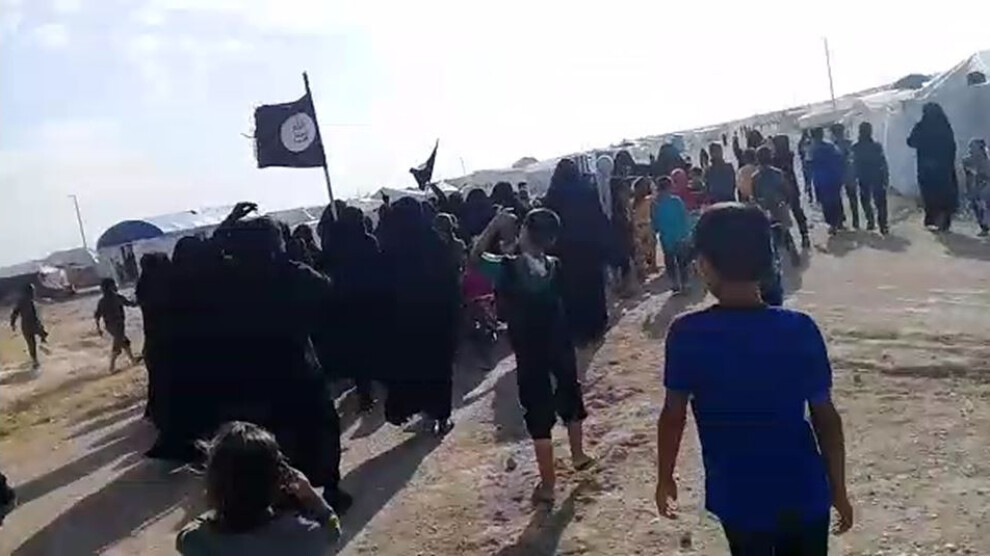 New footage provided by sources inside the Hol refugee camp in the city of Hesekê shows that children in the camp are trained in war courses.
The footage was shot in the Muhajirat section of the camp, where members of foreign jihadists of the ISIS group are held. Two ISIS women are seen to speak Russian to each other in a tent covered with the ISIS flag.
Children dressed in black gather around a table full of food and listen to the women in question. According to security sources, ISIS women offer a war training consisting of 5 steps.
Security sources say that the women in the Hol Camp have direct links to the ISIS "Leadership Committee" in the occupied areas.
Political parties and social organizations in North and East Syria keep warning that the children of ISIS members in the Hol camp are raised with ideas promoting violence.
SOME CHILDREN DELIVERED TO THEIR COUNTRIES OF ORIGIN
The Autonomous Administration of North and East Syria introduced educational centres to rehabilitate ISIS children and delivered some of them to their countries of origin. However, most children are raised in an environment which promotes extremist ideas.
Although the Autonomous Administration continues to warn about the danger of ISIS and its children, the international community continues to ignore the issue. More than 50 countries refuse repatriation of ISIS members worldwide. This may put the region in jeopardy.
RELATED NEWS: