Kongra Star Congress: Work to be increased for freedom of Abdullah Öcalan
Kongra Star held its 9th congress. A lot of important decisions, including the establishment of a 'Freedom for Leader Öcalan Committee', were taken during the congress.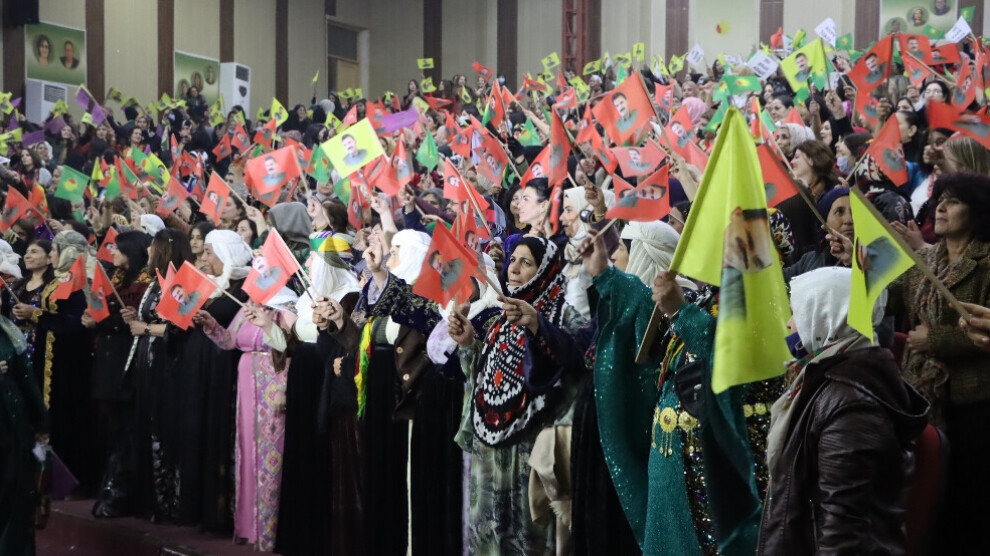 Kongra Star held its 9th congress with the slogan 'We will achieve the resistance of Woman, Life, Freedom with the struggle of Women's Revolution' on 15 January on the 18th anniversary of its establishment.
The congress was held in the Culture and Art Hall in Hesekê. Around one thousand members, members of the Kongra Star Coordination in Damascus, representatives of women's movements and organizations in Northern and Eastern Syria, political parties (North-East Syria Autonomous Administration Women's Committee, Democratic Syrian Assembly, Democratic Union Women's Assembly Party, Syria Future Party, Syrian Democratic Forces, Women's Internal Security Forces) attended the congress.
'We will win with women's resistance spirit'
Kongra Star Coordination member Rîhan Logo commemorated all freedom martyrs, saluting the 9th Congress, Leader Öcalan and all pioneers of the Women's Revolution in North and East Syria.
Rihan said: "We will win with the slogan 'Jin, Jiyan, Azadi'. This slogan is now being chanted across the world. The serhildan (uprising) led by women will be crowned with victory. History repeats itself: just as women led the revolution in North and East Syria (Rojava) yesterday, today the women of Rojhilatê Kurdistan and Iran are leading the revolution. And they will succeed."
After the speeches, a council committee with five members was formed. Then, Kurdish people's leader Abdullah Öcalan's writings on women and the struggle against the patriarchal system were read.
Kongra Star's activities in North East Syria, Başurê Kurdistan (Iraqi Kurdistan), Lebanon, Damascus and Europe were also discussed.
The Congress ended with the election of the seven members (Remziye Mihemed, Welîde Botî, Rîhan Loqo, Sûad Hesen, Hêvî Silêman, Şadiye Yûsif ve Nesrîn Doko) of the Kongra Star Coordination.
Decisions taken
The 9th Congress of Kongra Star took the following decisions: "A Freedom to Abdullah Öcalan Committee will be established to spread the ideas of Leader Öcalan and to remove the isolation in Imralı Prison. A conference about the paradigm of Leader Öcalan will be held."
In addition, the congress decided that "the name of Kongra Star Academy in Rimêlan will be changed to Leyla Agiri. An academy and central academy will be opened in the city of Hesekê in the name of Martyr Zeyneb Mihemed (Zeyneb Saroxan). A women's park named after her will also be opened. Training courses for Kongra Star employees will be organized. A Women's House Conference will be held every 6 months, and democratic relations with international environmentalist groups will be strengthened. A women's library will be opened as well as a women's park called Jîna Aminî."