Life in Washokani organized by the Camp Assembly
The Assembly established by the residents of the Washokani Camp is carrying out basic services for refugees as well as organizational activities.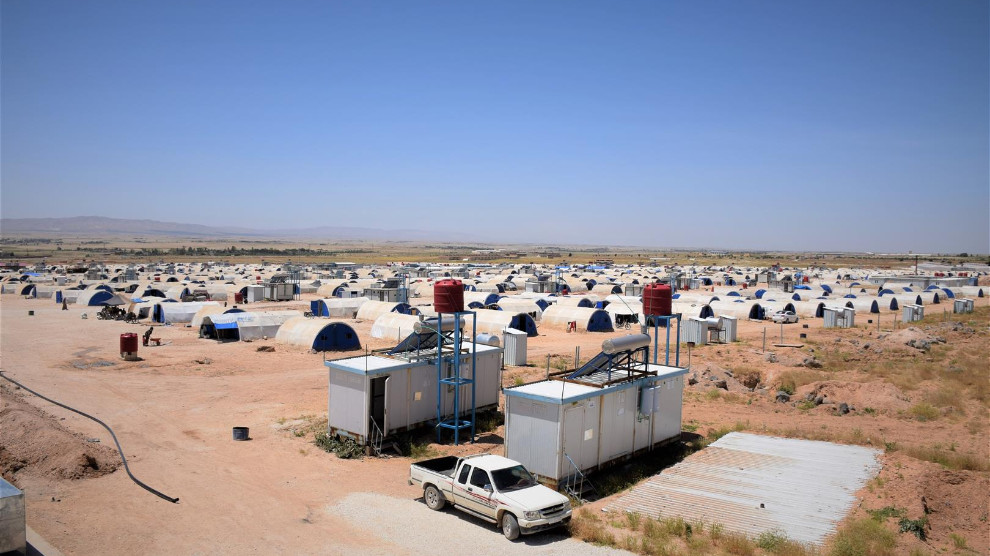 The Autonomous Administration of North and East Syria constructed the Washokani (Waşûkanî) Camp in Heseke in order to host the people displaced following the military assaults of the invading Turkish state against Serêkaniyê (Ras al-Ain) and Gire Spi (Tal Abyad) that caused thousands of people to flee. Currently, 12 thousand refugees live in the camp that spreads on a 600,000 square meter area. An assembly has been established by the families that live in the camp after its construction. This assembly carries out significant services with the outbreak of Coronavirus pandemic. The camp assembly consists of several committees: Committee of Culture and Art, Committee of Education, Committee of Social Justice, Committee of Defence, Committee of Health, Committee of Women and Committee of Youth.
ACTIVITIES OF THE COMMITTEES
Committees within the assembly provide important services. Culture and tradition of the refugees are preserved by cultural activities. Schools have been opened in the camp to help children continue their education. The Women's House in the camp empowers women to act in an organized manner. Service committees meet all needs of the refugees from basic food such as bread, water, sugar and oil to gas and fuel. The Committee of Defence maintains the order inside the camp and protects the refugees against threats from outside. The Committee of Health assures that migrants could receive health services in coordination with the Kurdish Red Crescent Heyva Sor a Kurd.
The Washokani Camp consists of 3 sections (A, B, C). There are 6 different units within each section and 6 communes in each unit.
"RELIEF ORGANIZATIONS CANNOT PROVIDE THE NEEDED SERVICES"
Providing information on the functioning of the camp, Elaa Ali, co-chair of the Camp Assembly, said that the communes carry out their work each day regularly. Stating that the assembly maintains the coordination of relief organizations inside the camp, Ali remarked that there are more than 10 organizations in the camp and these organizations do not render the necessary services to the refugees. He called on international organizations to offer help for the refugees.