Manbij Democratic Civil Administration confirms 29 bodies exhumed from mass grave
Manbij Democratic Civil Administration made a statement regarding the mass grave found in the square in front of the administration building.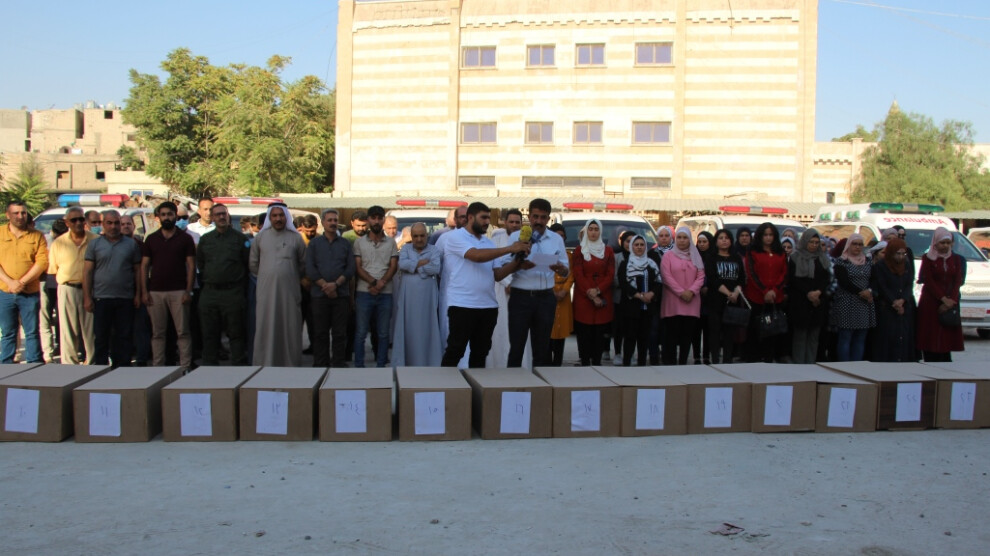 The Manbij Democratic Civil Administration made a statement about the 29 bodies exhumed from the mass grave discovered in front of the administration building, previously known as the 'Manbij Hotel'.
The statement was read by Ebdulkerim Bekar, co-chair of the Internal Affairs Committee. "The people of Northern and Eastern Syria have suffered a lot from the dark ISIS terror and continue to suffer. Our children have suffered because of this terror. As the 6th anniversary of the liberation of Manbij approaches, the crimes and brutality committed by ISIS gangs against us continue to be discovered. A mass grave was found while Manbij City Council workers were digging to clean sewer lines in the city."
The statement continued: "On the morning of Wednesday, 27 July, 3 skeletons buried by ISIS gangs between 2014 and 2016 were found near the Manbij Hotel in the middle of the city, which ISIS used as a prison."
A total of 29 bodies, aged between 18 and 60, were found. Nothing remained of those bodies, except bones, clothing, and personal belongings. All of these people had been shot in the head, their hands were tight and they were blindfolded.
The statement said: "We once again call on the international community to correct their wrong policies, to fight all kinds of violence within the framework of international law, and to hold the states that give all kinds of support to terrorist organizations accountable.
All members of our people, who pay the price of terrorist crimes with the blood of their children, are victims of this atrocity.
Everyone knows that without foreign aid, terrorism could not have spread in our country, and thousands of gangs brought new weapons to our regions.
Turkey opened its borders to tens of thousands of terrorists from different parts of the world and provided them with logistical support. Training centers were established for them under the supervision of Turkish and Western intelligence."