Martyr Reşad Ali lied to rest in Dirbêsiyê
Member of the Military Discipline Forces Reşad Ali was lied to rest with an emotional ceremony in Dirbêsiyê.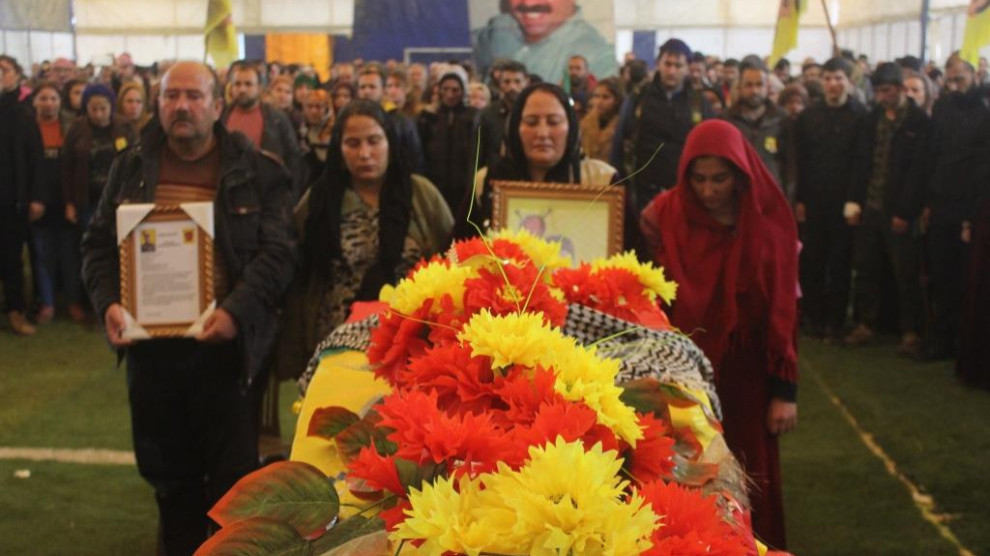 Reşad Ali (Bahoz Dirbêsiyê), a member of the Military Disciplinary Forces who fell martyr in Zirgan, was accompanied in his last journey from the Dirbêsiyê Martyrs' Families Assembly by hundreds of people.
The ceremony was held at the Municipal Stadium. Merdiya Ehmed, member of the Martyrs' Families Assembly, expressed his condolences to the family of all martyrs and reiterated the promise to walk on the path of the martyrs.
SDF commander, Mihemed Nebi Kutê, emphasized that the invading Turkish state wanted to destroy the peoples and identities of the region with its attacks and tried to put peoples one against each other.
Speaking on behalf of the martyr's family, Berfîn Ali said: "Martyr Bahoz is neither the first nor the last martyr of our family. Martyrs are protecting the values of everybody with their struggle."
Mizgîn Welî, member of the Martyrs' Families Assembly, read the martyr certificate and delivered it to his family.
After the ceremony, Ali was taken to Martyr Rüstem Cudi graveyard and was laid to rest.