Mazlum Abdi: Turkish invasion will strengthen ISIS
"When a large NATO army attacks us, the fight against ISIS takes a back seat. An invasion by Turkey will strengthen ISIS," SDF commander Mazlum Abdi said about the Turkish invasion plans in northern Syria.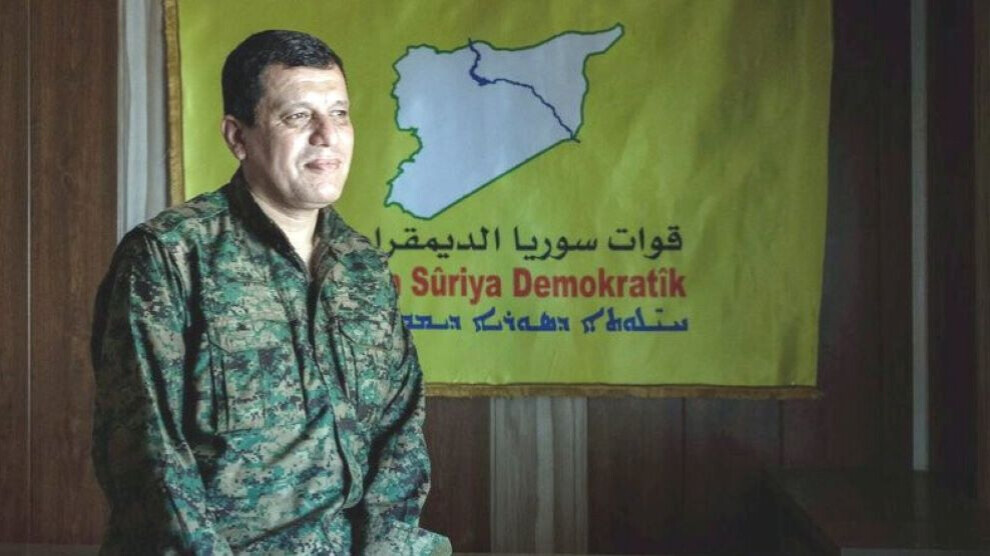 Mazlum Abdi, general commander of the Syrian Democratic Forces (SDF), spoke to Ronahî TV about the current developments in northern and eastern Syria. Turkish President and AKP Chairman Tayyip Erdogan announced an attack on the towns of Manbij and Tel Rifat at his party's parliamentary group meeting in Ankara on June 1 and said he would "cleanse" other areas of terrorists afterward. Abdi said Friday night that the SDF is taking this threat seriously.
"Faced with political hopelessness at home, Erdogan wants to profit from an attack on the region. If Turkey can convince the sides involved, it will attack. We have been preparing for this war and our self-defense for a long time. We have been making preparations since the occupation of Serêkaniyê and Girê Spî. The people will resist together with us. It will be a hard war. I do not believe that Turkey will win. We advocate resolving all problems through dialogue. However, if there is an attack, we will defend ourselves," said the SDF commander.
Tel Rifat is located in Shehba Canton, which has been home to hundreds of thousands of displaced people since the occupation of Afrin in 2018. Manbij has also taken in numerous internally displaced people. Mazlum Abdi stated, "Turkey is talking about security concerns. However, there is no longer security in all the areas Turkey has invaded. We have seen this in Afrin. A large part of the population has been displaced, human rights are violated every day. In Manbij, there are over 300,000 refugees. Two million people live in the areas that Turkey wants to attack, and half of them are made up of refugees. They will be forced to flee again by an attack. There are also many camps in northern Syria, and ISIS families live in some of them. If there is an attack, we will probably no longer be able to guarantee security in these camps. Such an attack would also not only affect the region, but would cause problems throughout Syria and in neighboring countries."
The main beneficiary of a Turkish invasion would be ISIS, Abdi emphasized: "ISIS has not yet been defeated and is waiting for further opportunities to attack. Islamists are being trained in places like Girê Spî and Serêkaniyê. If an attack occurs, ISIS will increase its activities. Such an attack would support terror, our fight against ISIS would suffer. If a large NATO army attacks us, the fight against ISIS will take a back seat. ISIS will be strengthened by an invasion."
Commenting on Erdogan's announcement to settle "one million refugees" in his zone of occupation in northern Syria, Abdi said, "This project has nothing to do with human rights. It is a political project to change the demographic structure. Conflicts are to be stirred up between peoples. The people who are to be settled there did not go to Turkey from this region. People already live in these areas. We have an obligation to our people to prevent this project. We are talking to our friends about this. If necessary, we will also intervene militarily. No one will voluntarily become part of this project, there is no voluntary return. According to our information, Erdogan has not found approval at the international level. This project is supported by organizations from Kuwait and Palestine that have nothing to do with human rights. These entities must withdraw, no one must support a project to change the demographic structure."
SDF commander Mazlum Abdi called for international protest against Turkey's planned invasion. Otherwise, he said, Turkey will implement its plans. "A meeting of the foreign ministers of Turkey and Russia will be held on June 8. Russia declares it will not allow an attack. We are talking with the U.S. about this issue and they are also against an attack. However, this needs to be expressed much more clearly."