'Measures in North and East Syria aim to prevent pandemic'
Speaking about the coronavirus (Covid-19) pandemic, the co-chairs of the North and East Syrian Autonomous Administration Executive Council co-chairs said that many measures were taken to prevent the virus from entering the region.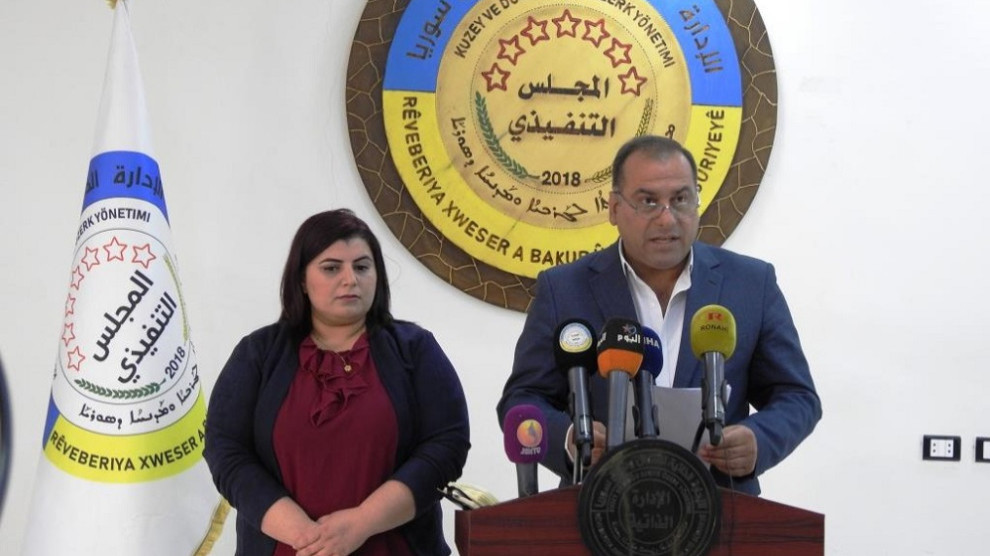 The North and East Syrian Autonomous Administration Executive Council co-chairs, Abid Hamid al-Mihbaş and Bêrîvan Xalid held a press conference in the Autonomous Administration building in Raqqa to talk about the Covid-19 (Coronavirus) pandemic that is threatening the whole world. A statement was read by Abid Hamid al-Mihbaş  in Arabic and by Bêrîvan Xalid in Kurdish.
Underlining the measures taken by the Autonomous Administration, al-Mihbaş said: "All the measures taken are important. They have prevented the outbreak from entering North and East Syria. We are aware that these measures affect the economy and the daily life of the people, but our priority is public health." 
Al-Mihbaş said that the necessary resources have been allocated to the Health Committee in order to take the necessary measures in all cities.
Pointing out that the local residents make a living with their daily work, al-Mihbaş said: "We have taken a series of other decisions to ensure that the public is affected as little as possible by the measures taken. Accordingly, necessary food support will be offered to the public. In addition, water, electricity and cleaning bills will not be charged in the months of May and June."
Al-Mihbaş reminded that the Education and Training Committee has set up all necessary courses and classes in order to prevent students from being deprived of their education rights.
Pointing out that the coronavirus pandemic affects the world economy, al-Mihbaş added: "Clearly the economy of the Autonomous Administration territories is also affected. We are carrying out the necessary assessment with the relevant authorities in order to protect our economy in order to continue to meet the needs of the society."
Stating that the Autonomous Administration resources are insufficient also because of the invasion attacks by Turkey and Turkish-linked terrorist activities, al-Mihbaş added: "The infrastructure of the health system was damaged by the attacks. All medical devices were plundered during the occupation attacks." 
Al-Mihbaş called on the International Coalition, the UN and the World Health Organization to provide the necessary medical support in the fight against coronavirus and emphasized that medical support will prevent a possible humanitarian crisis, especially in the camps.
Al-Mihbaş thanked the health workers, crisis desk, municipalities and Internal Security Forces, who have been working on behalf of the Autonomous Administration. Al-Mihbaş also confirmed that no coronavirus cases have been detected in the region so far.