Measures increased at Washokani camp
Heyva Sor a Kurd and the Health Committee continue to take preventive measures at the Washokani Camp, where Serêkaniyê and Til Temir people settled after the Turkish invasion attacks.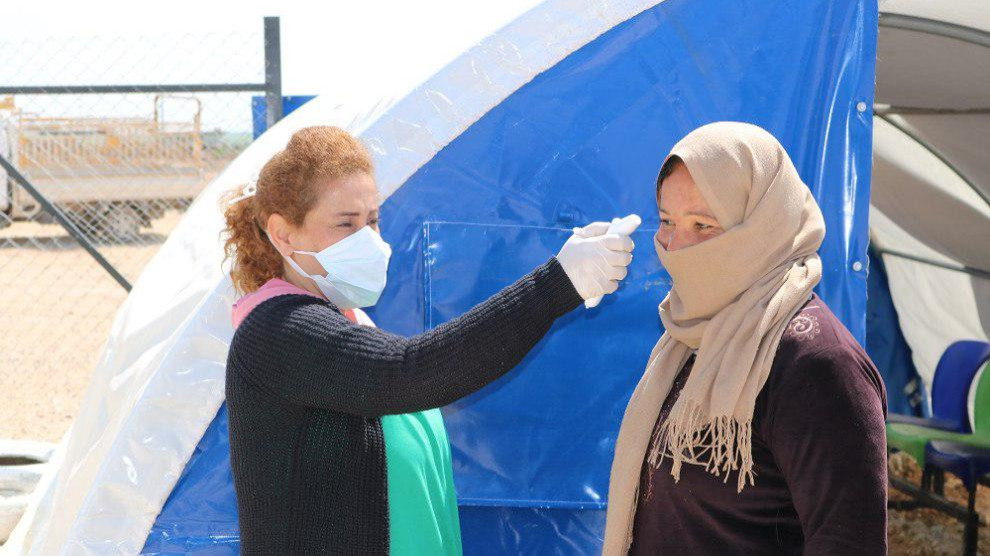 The Health Committee and Heyva Sor a Kurd, affiliated to the Autonomous Administration, have increased preventive measures in Washokani Camp where more than 10 thousand refugees have settled.
The curfew announced by the Autonomous Administration on 23 March means entrance and exit to the camp have ended except for emergencies.
People entering the camp have their temperature taken by the health personnel while the people living in the camp are informed about the precautions to be taken.
At the entrance of the Heyva Sor a Kurd health center in the camp, people queue keeping the recommended social distance to go and see the doctor. 
EMERGENCY RESPONSE CENTER SET UP
There have been no cases of coronavirus in the camp so far and emergency teams are on alert 24 hours a day. A small medical intervention center consisting of 10 tents was created at the entrance of the camp.
Speaking to ANF, Washokani Camp Heyva Sor a Kurd executive, Cîhan Amir, said: "There are four doctors in the health center, two internal medicine, one pediatrician and one gynecologist. While the examinations are carried out between 9 am and 3 pm, the emergency service is available 24 hours a day.
There are 7 health personnel in the health center and 6 personnel in the emergency room. There are three ambulances in the camp with three emergency medical technicians. The camp also has a special section for gynecology."
Cîhan Amir pointed out that they are continuing to inform the public as to how to prevent the coronavirus epidemic. "We have given 20 people the task to inform families and they visited every tent and communes one by one. They give information about ways to protect people and prevent the virus spreading."
Amir said that they have problems with medical equipment and medicine at Washokani Camp and added: "All the needs are met by the Democratic Autonomous Administration of the North-East Syria. Despite all the resources being mobilized to the health service, they remain inadequate. No organization has so far helped us. International health and aid organizations should support us."