MSD: All democratic forces should participate in national dialogue
The Syrian Democratic Council said that "all democratic national forces should participate in national dialogue for a democratic and decentralized Syria."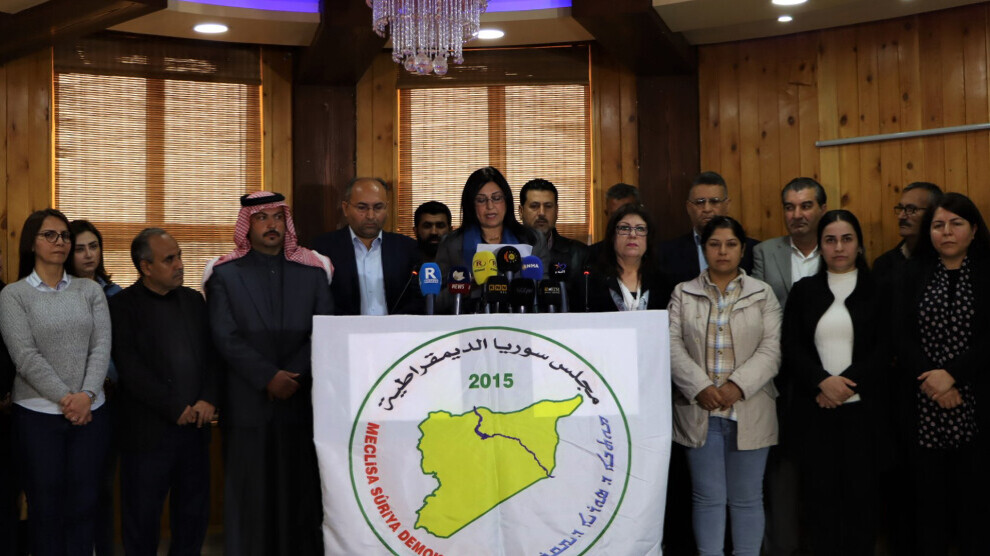 The Syrian Democratic Council (MSD) held a press conference to mark the 12th anniversary of the civil war that started in Syria on March 15, 2011.
MSD Co-Chair Emine Omer read out the statement at the Foreign Relations Office of the Autonomous Administration of North and East Syria (AANES) in Qamishlo.
Noting that the popular movement in Syria started in Daraa, the statement said: "The direction of the Syrian Revolution shifted, and the parties that have nothing to do with the hopes and dreams of the Syrians took advantage of the situation. In the meantime, historical achievements were also made. Old ideological and political patterns were removed, and people's self-confidence increased. These two achievements should be preserved."
The statement praised the courage and sacrifices of Syrian men and women against oppression and occupation and underlined that the MSD supported the demand of all peoples in Syria for a dignified life and freedom.
The MSD statement concluded: "We call on all patriots and volunteers to carry out work worthy of the sacrifices of the people, to unite and to achieve national unity. In the same way, the international community should pay heed to the demands of the Syrian people for democratic change, peace, security and a dignified life. All democratic national forces should participate in national dialogue for a democratic and decentralized Syria."