Outcome of the final battle in Baghouz: 164 ISIS members killed
SDF announced that 164 ISIS members have been killed and several locations have been liberated in Baghouz.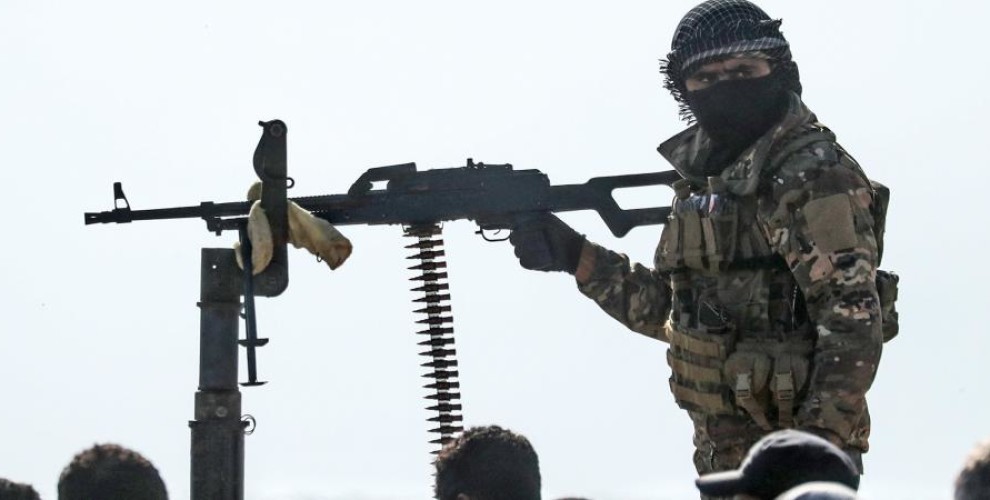 Media Center of the Syrian Democratic Forces (SDF) released the outcome of battle against ISIS in the village of Baghouz to the east of Hajin town where the final operation against the terrorist organisation has been carried out.
According to the balance sheet, 164 ISIS members have been killed, several locations were destroyed and a large quantity of ammunition has been seized, while 4 SDF fighters fell as martyrs.
The statement released by SDF Media Center is as follows;
"After the evacuation of civilians from the village of al-Baghouz, the last enclave where the ISIS terrorists were holed up, the final campaign to eliminate them has begun.
The battles and clashes continue fiercely between our fighters and members of the terrorist organization in several axes, where the terrorists are trapped in a narrow spot, and we confirm that the fighting will not stop until they are eliminated or arrested.
The outcome of battles and clashes, since the resumption of the final campaign as follows:
Our fighters launched a fierce attack through one of the wings and advanced in violent clashes with the ISIS terrorists. The terrorists used various types of weapons, heavy and light, and mortars, the terrorists attempted to launch an attack on the positions of our forces after our fighters managed to install 9 new points. Terrorists suffered heavy losses of lives and equipment, we could not find out exactly how many, due to the intensity of the fighting, but confirmed that three terrorists were killed by snipers of our fighters. One of our fighters was wounded by a mortar shell.
On the other hand, fierce clashes broke out between our fighters and members of the terrorist organization, following an attack by our fighters on the sites where the terrorists were holed up. They were able to install 35 new points, and a number of terrorists were killed and others wounded. Bombing of the positions of our fighters, while a mine planted by the terrorists exploded, wounding three of our fighters lightly, while three others were also injured during the clashes. International coalition aircraft also launched several raids on terrorist positions and fortifications, in conjunction with artillery shelling of their groups.
In another axis, there were heavy movements of terrorist elements yesterday evening. They were spotted by our fighters. There were very strong clashes. Eight suicide bombers blew themselves up before they reached the points of our fighters. Three car bombs were detonated at a distance. Our fighters resisted all attempts by terrorists to make progress, targeted a large car loaded with ammunition, and eventually all attempts by terrorists to launch counter-attacks were foiled.
In the morning hours, the clashes continued with all fierceness between our fighters and terrorists. The fighters responded to the counter-attacks that the terrorists attempted on our military positions by using thermal missiles. The death of six terrorists were confirmed, as our fighters advanced in several neighborhoods of the town. Several of our fighters were lightly wounded during the clashes.
In another wing of the fighting front, our fighters targeted moving groups of terrorists, killing 33 terrorists and wounding others, while the International Alliance aircraft launched several raids on their positions and gatherings.
In another axis, our fighters made significant progress, and they managed to install 6 new points in the midst of violent clashes, which resulted in the death of a number of terrorists and the arrest of another, and our fighters killed six terrorists in the same axis during two direct attacks.
Late last night, our fighters in another axis launched a violent attack on terrorist positions and fortifications. Violent clashes broke out, killing a number of terrorists. Our fighters managed to install 5 new points. While the International Alliance aircraft launched several strikes focused on terrorist sites and gatherings, which caused serious damages to them.
The terrorists also tried after midnight last night to carry out an attack on the positions of our forces in another axis, but our fighters confronted them. Violent clashes broke out in which our fighters targeted a car loaded with terrorists, which three terrorists were killed in and three others were killed when they tried to retrieve the bodies of their dead.
The clashes are still strong on all fronts to the moment of writing this outcome.
Final Outcome of the Clashes:
Number of terrorists killed: 164 / terrorist, the bodies of many of them fell into the hands of our fighters.
Losses of terrorists: Cutting military roads/11
Destruction of military sites/21
Car bomb explosion/13
Destruction of trenches/2
Destruction of Dushka weapons sites/5
Destruction of military vehicles/10
Destruction of ammunition stores/4
Weapons and equipment seized by our fighters:
Kalashnikov weapons/15
Rocket launching base/1
Laptops/2
Number of strikes by international coalition aircraft: 65 / air strike.
Number of martyrs of our fighters: 4/martyrs.
Number of wounded fighters: 38/fighters."