Protest in Shaddadi against Turkey's massacres and crimes
Masses have been taking to the streets across North-East Syria to protest against the Turkish state's intensified attacks and massacres in the region.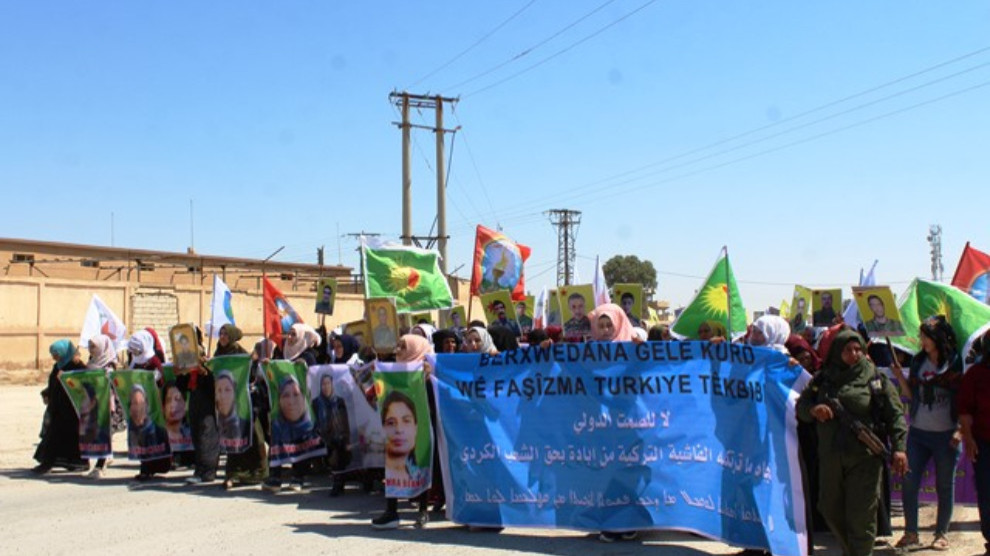 Shaddadi District Council and the civil society organisations in the region promoted a demonstration in protest at the attacks, crimes and massacres of the occupant Turkish army and allied jihadist proxies in North-East Syria.
The crowd displayed photos of the victims of Turkish massacres as they staged a march, chanting slogans against the occupation attacks targeting the region.
Speaking at the rally that followed, women's umbrella organization Kongreya Star Shaddadi branch administrator Emira al-Saad said the following: "We call on ever advocator of freedom to stand against the Turkish state forces' and allied mercenaries' crimes against women, their attacks on North and East Syria and the attacks on Shengal (Sinjar) and Southern Kurdistan. The killing of three women in Kobanê manifests the fact that the Turkish state and the AKP are afraid of the free and resisting women."
Speaking after, Salim al-Salim, co-chair of the Council of Martyrs' Families, strongly condemned Turkey's indiscriminate attacks against children, women and everyone else. He stressed that: "We will be victorious again as we achieved a victory against DAESH (ISIS)."
The demonstration ended with slogans commending the resistance of North and East Syrian peoples.