Remains of fallen YAT members transferred to Rojava
The mortal remains of the nine members of the SDF's anti-terrorist units (YAT) killed in the helicopter crash in southern Kurdistan have been transferred to north-eastern Syria. A central funeral service is planned for Wednesday in Hesekê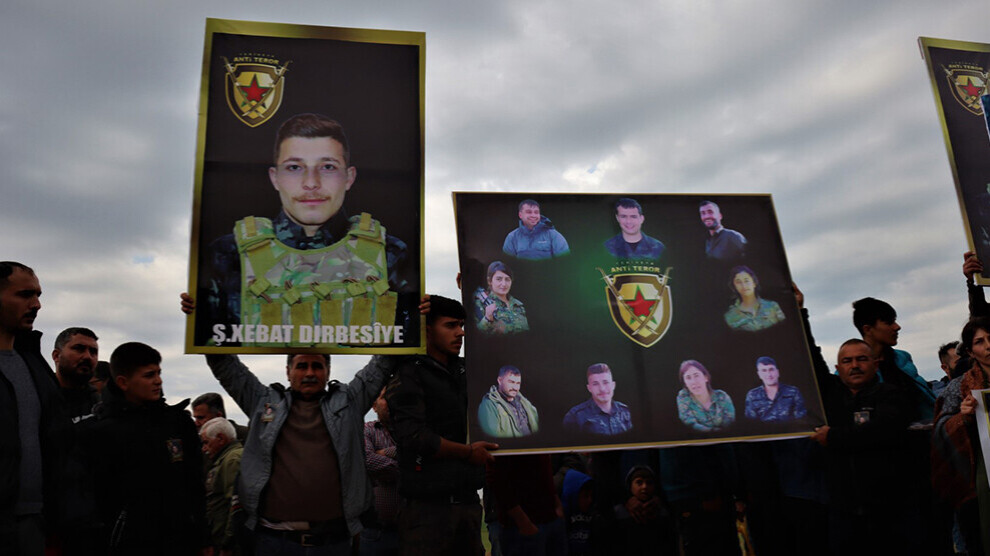 Remains of the nine members of the Syrian Democratic Forces (SDF) who died in two helicopter crashes in Southern Kurdistan were brought to Rojava on Tuesday. After a non-public reception ceremony at the border, the bodies were transferred to the Şehîd Sarya hospital in the district of Xiwêran (Ghweiran). A central mourning ceremony is planned for tomorrow, Wednesday, in Hesekê, which will be attended by representatives of the international anti-ISIS coalition, among others.
The martyrs are fighters from the YAT (Anti-Terrorist Units), an elite SDF force specialising in the fight against the jihadist militia "Islamic State" (ISIS). The YAT team wanted to exchange security issues and military expertise in the city of Sulaymaniyah in the Kurdistan Region of Iraq when the two helicopters crashed near Amadiya. Among the victims was the unit's commander, Şervan Kobanê. The SDF cited bad weather as the cause of the accident.
The funeral ceremony for the YAT dead will take place at 11 a.m. local time at the Serdem Stadium. Beforehand, the coffins with the bodies will be received at the hospital and accompanied in a procession through the city. There will then be a military farewell ceremony at the stadium. The SDF called on the people to participate in the funeral service to pay their last respects to the martyrs.