SDF announces identities of 2 fighters who fell as martyrs
The SDF announced the identities of the 2 fighters who fell as martyrs in an accident during the training period.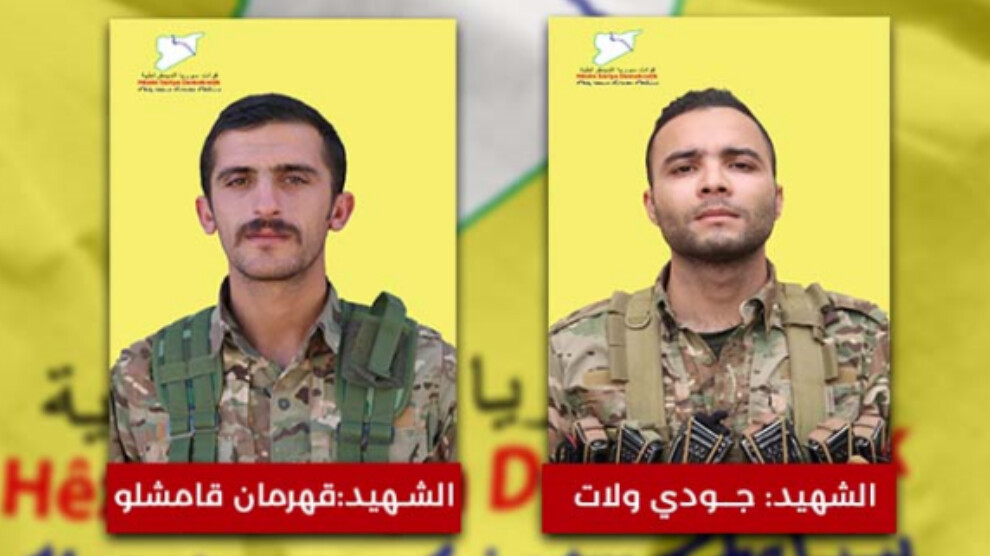 The Syrian Democratic Forces (SDF) Press Center released the identity information of 2 fighters who fell as martyrs in an accident.
The two fighters, Cûdî Welat and Qehreman Qamishlo, died as a result of an accident that occurred during their training.
The statement said: "While our forces were training, an accident took place, and as a result of it, two of our fighters, Mihemed Mahir Hemewî (Cûdî Welat) and Îmad Îbrahîm (Qehreman Qamishlo) fell as martyrs.
Our friend Judi joined our forces a long time ago and was involved in many battles against ISIS mercenaries. Thanks to his experience, he has become an example for fighters.
Our comrade Qehreman was also a good and loved fighter, always helping and supporting his comrades. Thanks to his ability to determine military plans and tactics, he took his place on the front lines and was successful in his work.
We promise our people and families of martyrs that we will follow the path of our martyrs and continue our struggle and resistance until we achieve victory."
The identities of the martyrs are as follows:
Codename: Cûdî Welat
Name and surname: Mihemed Mahir Hemewî
Mother's name: Nejdiye
Father's name: Ehmed,
Place and date of birth: Qamishlo 1997
Place and date of martyrdom: Hesekê, 4 March 2023
Codename: Qehreman Qamishlo
Name and surname: Îmad Îbrahim
Mother's name: Xezal
Father's name: Ibrahim
Place and date of birth: Qamishlo 1995
Place and date of martyrdom: Hesekê, 4 March 2023