SDF announces the names of two fighters martyred in Turkish attack
The Turkish army has escalated its brutal attacks and violations against the border areas that are subjected to daily attacks by artillery, tanks, and UAVs, targeting not only fighters but also civilians.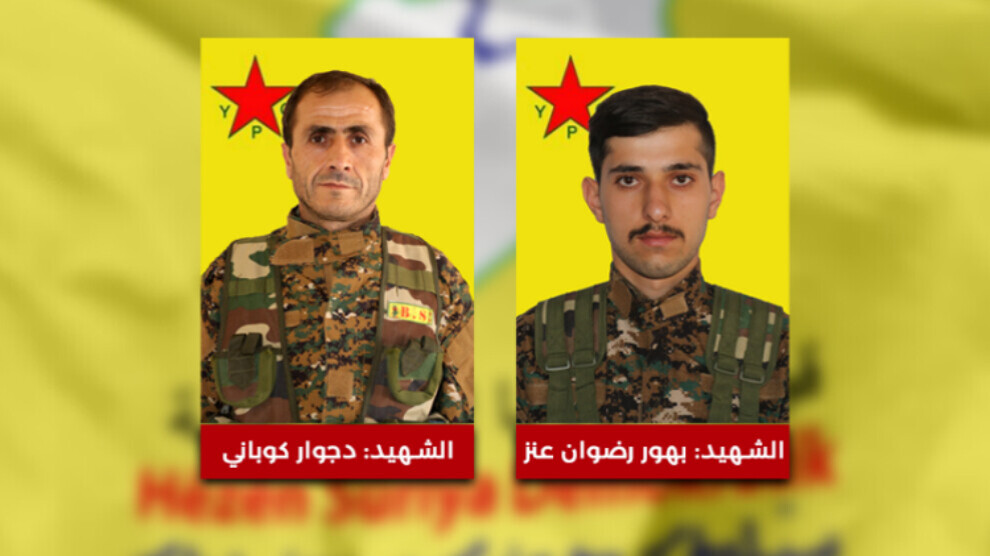 On Wednesday at 5.10 pm, two SDF fighters were returning from their leave in a civilian vehicle when they were targeted by an Unmanned Aerial Vehicle (UAV) belonging to the invading Turkish army in the village of Melesibat in Qamishlo. As a result of the attack, two SDF fighters fell as martyrs, as well as the driver Edip Yusif.
In a written statement on Thursday, the Press Center of the Syrian Democratic Forces (SDF) announced the identity of two fallen fighters, Dijwar Kobanê and Çiya Qamishlo.
"During our legitimate fight against both terrorism and occupation, our forces have made significant sacrifices, defending our people and our regions. Our comrades never hesitate to sacrifice their pure blood, paving the way for the Revolution," said the SDF statement.
According to the statement, SDF fighter Dijwar Kobane was one of the SDF's pioneer commanders who participated in many battles against ISIS in different regions. He also participated in the historic resistance against the aggressions and attacks of the Turkish occupation. He spent quite a long time defending the region and its people against all threats. He was beloved by his country's people for his good manners, high morals, and abiding by the values of the martyrs and the revolution.
SDF fighter Bawer Ridwan (Çiya Qamişlo) was brought up in a patriotic family with a long history of struggle. His patriotic education made him join the SDF forces to defend the region and its people. He always performed the tasks and duties to the fullest.
"The constant crimes and violations of the Turkish occupation against our regions have made us more resolved to resist them and uproot their weak-spirited agents and traitors. We believe that the pure blood of our martyrs will be our motive for retaliation," the statement said.
The SDF extended their heartfelt condolences to the families of the two martyrs, their comrades and their people, vowing to continue their fight until liberating their occupied areas.