Seventh lesson at Rojava Summer School
The Summer School organized by Rojava University continues with its sixth lesson on Tuesday 21 June.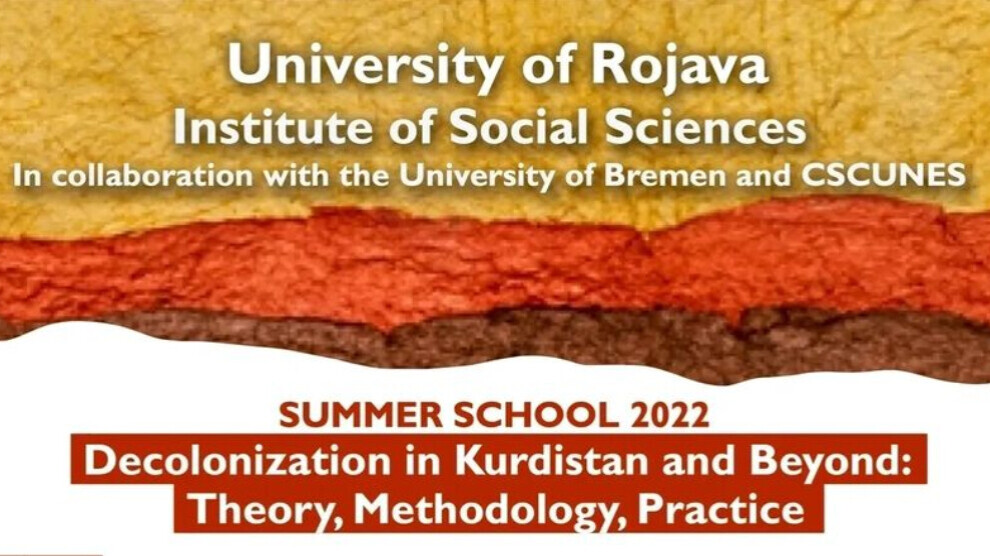 The Institute of Social Sciences of the University of Rojava, in collaboration with the University of Bremen and CSCUNES (Centre for Solidarity and Cooperation with the Universities of North and East Syria) has organised its Summer School in June 2022.
The seventh lesson of the Summer School will be given on Tuesday 21 June.
The lesson is called Alternative Knowledges, Alternative Universities: The case of the Inter-Cultural University of the Peoples in Colombia and the University of Rojava  
The speakers will be Berenice Celeita, Director, NOMADESC and founder of the Intercultural University of the Peoples and Şînda Dawud, University of Rojava.  
This session will explore the role of Universities in promoting, supporting, and sustaining projects for social change and decolonization. In so many parts of the world, Universities have become part of the neo-imperial, neo-liberal infrastructure of global hegemony. Yet, at the margins, new and exciting models of knowledge-making, knowledge-sharing, and social transformation are emerging based on radically new values and missions. With the participation of two leaders of such initiatives, speakers of this seminar will explore the history, practices, and achievements of these institutions that both emerged out of complex, protracted conflicts. The first is the Intercultural University of the Peoples (UIP), that emerged in the early 2000s as a grassroots popular education process that brought together trade unionists, black movements, indigenous organisations, women's organisations in the South West of Colombia, a region historically engulfed in political violence but with a strong tradition of popular protest. The second is the University of Rojava established in 2016 amidst the environment of war and destruction in Syria with the aim of building alternative educational institutions based on principles of the Rojava Revolution: radical democracy, coexistence of religious and ethnic communities, women's liberation, and cooperative and ecological economy. The session will explore context, strategy, and ongoing possibilities in the struggle for peace with social justice in and through new forms of education.   
The lesson will take place on Tuesday, 21 June 2022 17:00-19:00 Rojava Time (16:00-18:00 CET, 10:00-12:00 EST)  
Registration link: 
https://us02web.zoom.us/webinar/register/WN_rZqJKOiYRKeyk03HNgsHGA
The Summer School
The Summer School opened on 9 June and will run till 23 June. The rich program of lectures and seminars is titled "Decolonisation in Kurdistan and beyond: Theory, Methodology, Practice".
The Summer School celebrates the 10th anniversary of the Rojava Revolution and has two forms of sessions: closed seminars between MA students at the University of Rojava and the University of Bremen and public seminars and workshops with speakers from diverse backgrounds of scholarship and activism on decolonization around the world. There will be simultaneous English-Kurdish interpretation for the public seminars.