TEV-DEM holds its annual meeting
TEV-DEM's annual meeting ended with the announcement of the 2023 projects.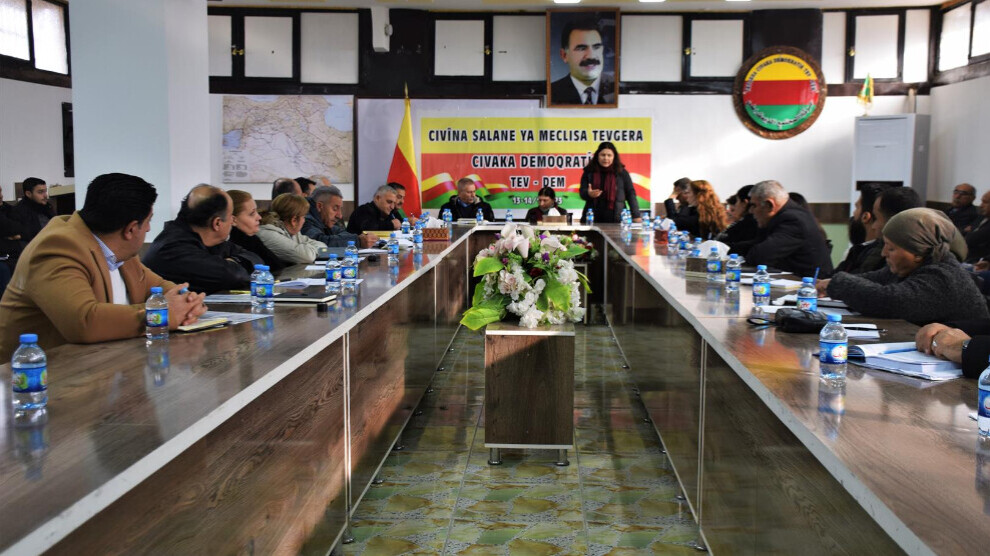 The Democratic Society Movement (TEV-DEM) held its annual meeting at the Civil Society Academy in Xeşman, Hesekê, to discuss the activities of institutions, organizations and civil society organizations in Northern and Eastern Syria and how they can be developed.
The meeting lasted two days and was attended by Democratic Union Party (PYD) Board Member Foza Yusif, TEV-DEM co-chairs Rûken Ehmed and Xerib Hiso, and dozens of members of institutions and organizations.
Evaluating the political situation, Foza Yusif said: "The conflict in Syria will continue because the world is busy with the war in Ukraine. Russia and Iran are weak at this stage, which is why they make concessions to the invading Turkish state."
Speaking about the approach of the Damascus government and the Turkish state, Foza Yusif said that the Turkish state is experiencing a real crisis and that its approach to the Damascus administration does not mean that their disagreements are over.
"We need to strengthen the domestic front economically, politically, socially and militarily. TEV-DEM should undertake great missions," said Foza Yusif, adding that a Kurdish united position is necessary.
TEV-DEM co-chair Xerib Hiso read some of the Kurdish people's leader Abdullah Öcalan writings, and then, the units, institutions and organizations related to TEV-DEM read their activity reports. Participants discussed the organizational situation and spoke about their plans for 2023.
Among the projects to be realized in 2023 are parks, the increase in public spaces, the development of health areas, the opening of new cooperatives and the building of new units.