Thousands demand "Freedom for Öcalan" in Hesekê
Concerned for the health and safety of Kurdish leader Abdullah Öcalan, thousands of people took to the streets in Hesekê demanding clarity on the situation on the Turkish prison island of Imrali.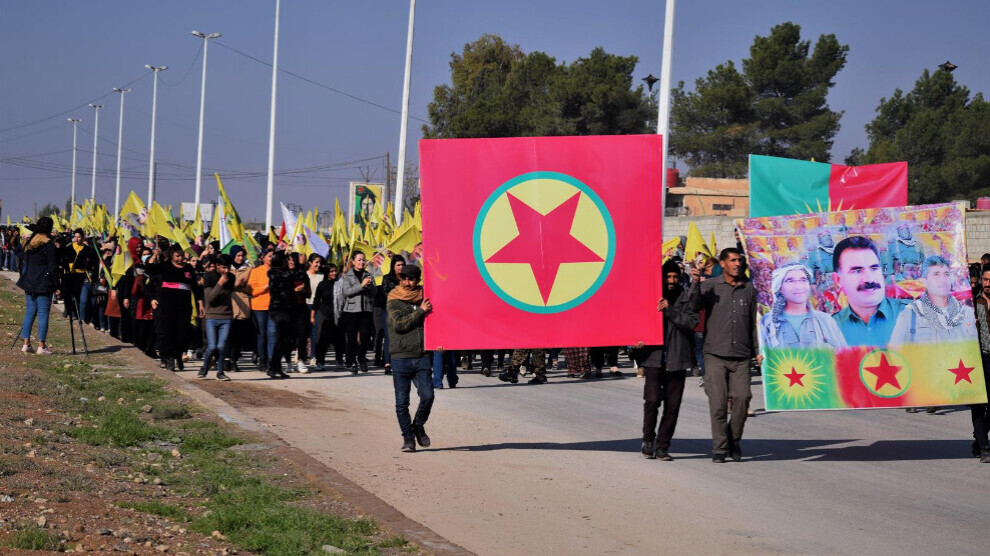 Concerned for the health and safety of Abdullah Öcalan, thousands of people in Hesekê took to the streets demanding clarity about the situation on the Turkish prison island of Imrali, where the Kurdish leader is isolated from the outside world. They demanded the immediate lifting of the solitary confinement and immediate contact with his defence team to get clarity on Öcalan's state of health, also urging international organisations to intervene.
Since 2019, Abdullah Öcalan and his three fellow prisoners, Ömer Hayri Konar, Hamili Yıldırım and Veysi Aktaş, have not been able to meet their lawyers. The last physical contact with them took place during a family visit in March 2020. About a year later, the Turkish authorities allowed one more phone call. Since then, 21 months have passed and the Imrali prisoners continue to be held in absolute solitary confinement. According to the Asrin Law Office, which represents Öcalan and his fellow prisoners, this is a state of affairs that violates universal legal standards and national laws and constitutes torture and ill-treatment.
When the Council of Europe's Committee against Torture (CPT) announced in early October that it had made an ad hoc visit to Turkey in September and had also inspected Imrali, Kurdish society hoped that this would bring transparency and clarity to the situation on the prison island. But as Asrin announced this week, Öcalan did not take part in the conversation with the CPT delegation. Kurdish organisations then called for protests to put pressure on the institutions involved to intervene urgently and ensure that visits to Imrali can finally take place.
"Our demand is first and foremost addressed to the Council of Europe and its Anti-Torture Committee; they must fulfil their responsibility without delay. We demand clarity about the state of health of Abdullah Öcalan. The incommunicado detention must be ended immediately. The leader of the Kurdish people must be released immediately," said Mihêdi El Dixem. The PYD politician criticised that human rights violations in Turkey were being "ignored" by the international community and that the new wave of attacks against the autonomous areas of northern and eastern Syria (AANES) was also being de facto approved.
Xalida Boti of the women's umbrella organisation Kongra Star said that the Turkish state was pursuing a systematic "hostage policy" and that not only Öcalan was affected by this, but many other people, tens of thousands of whom were behind bars. "The peoples of the region will therefore intensify their struggle and increase the pressure on the responsible institutions to fulfil their duties. Just as Öcalan has always stood up for women's rights, we as women will also stand by him. We therefore call on all social, political and especially women's organisations to extend the resistance for the freedom of Abdullah Öcalan. Bê Serok Jiyan Nabe. [No Life Without the Leader]."