Three and a half years of torture by Turkish-backed militias
For three and a half years, A.H. from Azaz was severely tortured by the militia "Jabhat al-Shamiya" in prisons in the Turkish occupation zone in northern Syria. He also witnessed torture of Kurdish prisoners by imprisoned ISIS jihadists.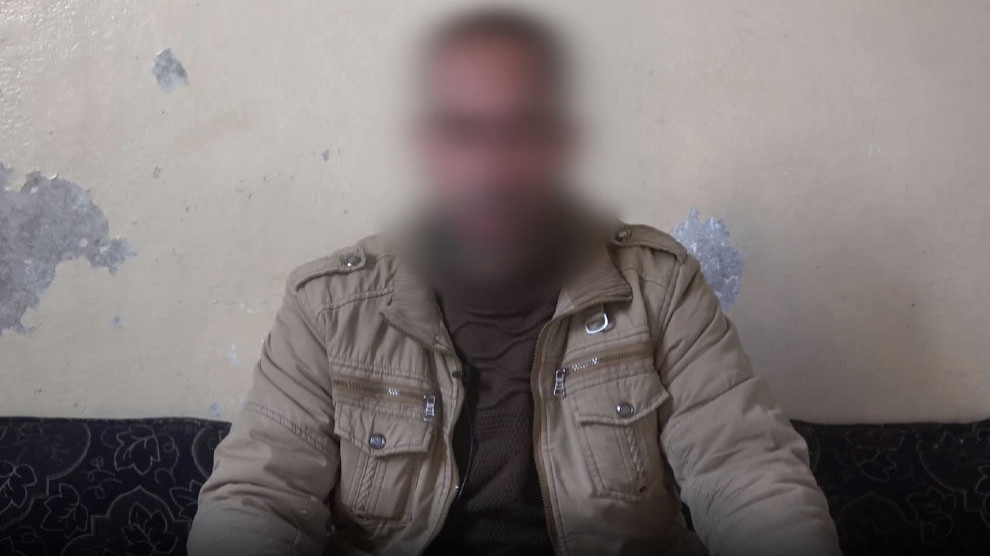 Under the silence and with the de facto approval of the international community, the invasion of Afrin, which was contrary to international law, was launched in early 2018 by the Turkish army and allied Islamist militias. Two months later the occupation of the northern Syrian canton was finalized - hundreds of people were dead, hundreds of thousands displaced.
Since then, Afrin, once the safest region in the whole of Syria, has been a living space for standards as once under the rule of the "Islamic State" (ISIS) in Raqqa. The militias, who are highly armed by Turkey and tolerated by the NATO alliance, have de facto divided the canton into geographical zones of influence. Destruction, attacks, torture and inhuman and degrading treatment against the inhabitants have long been part of daily life. Those affected repeatedly described the chaotic security conditions, the general absence of the rule of law and repeated cases of kidnapping, torture, extortion and murder - often of people of Kurdish origin from Afrin. The UN Human Rights Council also reported on this.
Terrifying details about the fate of people living under Turkish Jihadist occupation have now once again become known. A former prisoner of the Turkish-backed militia "Jabhat al-Shamiya" - the group that executed Kurdish politician Hevrîn Xelef in October 2019 - talks in an ANF interview about severe torture partly by ISIS Jihadists in captivity of the occupying forces.
A.H. is Arab and comes from Azaz. The city is located about 50 kilometers north of Aleppo and seven kilometers south of the Turkish border. In August 2016 Azaz was de facto annexed by Turkey.
In Azaz, A.H. was arrested in late 2016 for alleged "relations with the YPG". He was held in prison there for one year and tortured until he was released on New Year's Day 2018 for a ransom of 4,000 US dollars. He was then captured once again. This time A.H. ended up in a prison in the Shimmari camp. There, after the occupation of Afrin, an olive plant had been converted into a dungeon. A.H. was again heavily tortured. Two months ago he was released - this time for a ransom of 10,000 US dollars.
"It was just cruel"
A.H. tells the following about this prison: "In this prison there were ISIS members, Arabs and Kurds. The ISIS people were not touched by the guards. The reason given was that they were Muslims. But we were tortured. The Kurds, especially those accused of being connected with the self-government, were the worst affected. The torture methods were extremely brutal and repulsive. The prisoners received electric shocks until they fainted. Their skin was cut with razor blades before salt was rubbed into the wounds with lemon juice. They left us starving."
"Turkish military intensified torture"
A.H. mentions that after five months Turkish military personnel arrived and, on their orders, torture was further intensified. "They also did not deal with the ISIS prisoners in any way. Instead, they ordered: 'Kill the Kurds properly, increase the torture."
A.H. remembers being picked up after a while by members of the Turkish secret service MIT; "We were taken to Hawar-Kilis prison. It's on Turkish territory. There we were interrogated again. Those who were connected with the local government never returned."
ISIS members as torturers - systematic executions
What is even more shocking is that Kurdish prisoners in Azaz prison have been tortured by ISIS jihadists. A.H. claims to have seen the so-called prison director inciting the ISIS members to torture other prisoners. "There was one person, her name was Hikmet. At the time of the Democratic Autonomous Administration, he was a judge. The prison warden had him tortured by the ISIS members every day. They kidnapped the Kurds and especially those who had money, under the pretext of links with the PKK, and extorted ransom money. There was a large pit in Azaz. People who were killed and murdered by torture were thrown into this pit. Sometimes they told prisoners who had no relatives to pack their things and took them away. A while later we heard about their death."
Member of Turkish-backed militia reports war crimes
Before A.H. was released for ransom, he is said to have been taken to a military police prison in Azaz. "I stayed there for about eight months. FSA members were imprisoned there, among others, who were involved in theft and the like. They told how they kidnapped Kurds who were considered wealthy and how there were a number of prisons where victims were held. So I met an FSA member from Mare, for example. Once he mentioned to me how they had captured a father and two sons in Afrin and tortured the sons to death. He said they didn't torture the father, but they also didn't let him know that his children had been killed."
ISIS members in the ranks of Jabhat al-Shamiya
A.H. reports that allegedly captured ISIS jihadists are repeatedly hired for the Jabhat al-Shamiya militia: "An IS member from Ukraine became a bodyguard of the Jabhat al-Shamiya commander Abu Ali Sidjo after a while. I know ten other ISIS members who are currently working for Abu Ali Sidjo. I even got to know them very well. Sidjo's deputy Sheikh Hatim had brought out one Afghan and one Pakistani ISIS member to fight in Afrin. That's what the ISIS members who were later sent to prison told me as well."
Release in return for $10,000
A.H. was in the hands of Jabhat al-Shamiya for a total of three and a half years and was transferred from one prison to another. "During this time I was held under severe torture by FSA units of the Turkish state. We were basically starving all the time. I was innocent. They had no evidence. The first time they let me go for $4,000. Finally, two months ago, they released me for $10,000. I was able to escape from there in no time and went to Shehba. But I still have relatives in Azaz. Many civilians still live there. I'm very afraid for them."
RELATED NEWS: