YPG spokesman Nurî Mehmûd says attack in Qamishlo won't go unanswered
After the Turkish drone attack in which three politically active civilians were deliberately killed, YPG spokesman Nurî Mehmûd said that the attack would not go unanswered.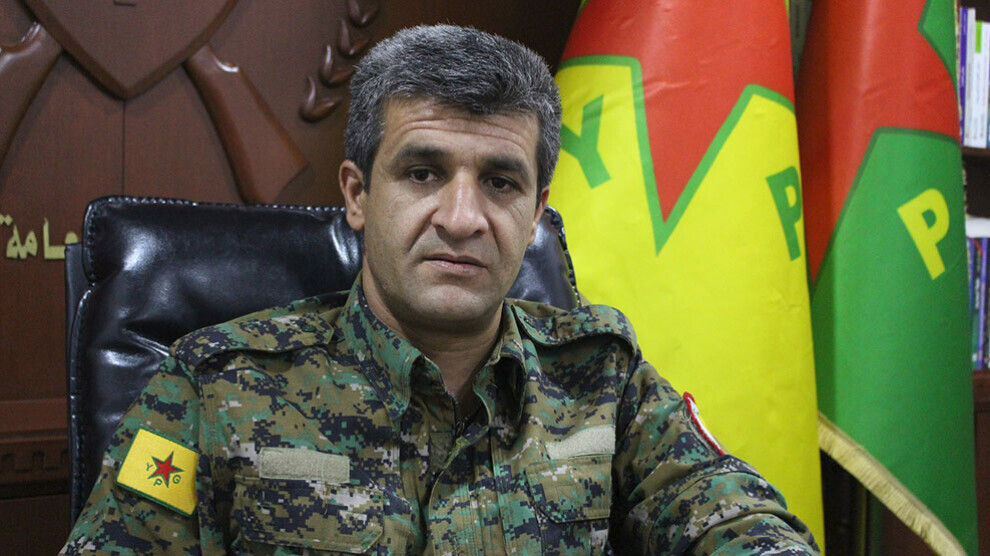 On Tuesday, three civilians were killed in a Turkish drone attack in the Hilêliyê district of Qamishlo. The three members of the Gulo family, Yusif Gulo, Mazlum Mustafa Gulo and Mihemed Mehmud Gulo, were known for their political commitment and appear to have been deliberately killed. YPG spokesman Nurî Mehmûd said on Tuesday evening: "Today's brutal attack in Qamishlo has shown that the goal of the Turkish state is to murder Kurds solely because they are Kurdish. That equals to genocide. "
"The massacres won't stop us"
Mehmûd added: "In this cruel attack, three civilians, Yusif Gulo and his grandsons Mazlum Gulo and Mihemed Gulo, all well known in the region, were killed. We express our condolences to our people and the Gulo family and condemn Turkish terrorism. We want to tell the world that the massacres of the Turkish state will not stop us but they will not divert us from the path of freedom marked by our fallen and resistance fighters.
"Şehîd Yusif Gulo supported the Kurdish freedom movement since its beginnings"
Mehmûd continued: "Şehîd Yusif Gulo was known in Kurdish society. He was known for his patriotic stance and awareness. Since his youth, he has been involved in the struggle of his people for democracy and peace. He supported the Kurdish resistance and the uprisings. Even when the freedom movement in Kurdistan was still in its infancy, Yusif Gulo fully supported it and opened his door to the Kurdish revolutionaries. He provided both material and moral support. He never behaved cowardly or opportunistically towards the Kurdish freedom movement. His support came from the heart. He supported his children in their participation in the revolution. In the course of the history of the Kurdish revolution, many of his children and grandchildren have died."
Mehmûd said: "When the revolution began in Rojava on 19 July, Şehîd Yusif Gulo supported it and so did his whole family, children and grandchildren. His children and grandchildren have actively joined our ranks. Many fell and many of his children, grandchildren and siblings are still fighting by our side.
Şehîd Gulo was a true freedom fighter for his people and his country. His role in building a peaceful coexistence between the individual elements of society in North and East Syria was great. We condemn this cowardly attack and declare that our forces will fight and win for the goals of the fallen and end the Turkish occupation. This attack does not go unanswered."