YPJ international fighters condemn attacks by the Turkish state and call for a no-fly zone
YPJ international fighters published a video message condemning the attacks by the Turkish state and demanding that a "no-fly zone" be declared.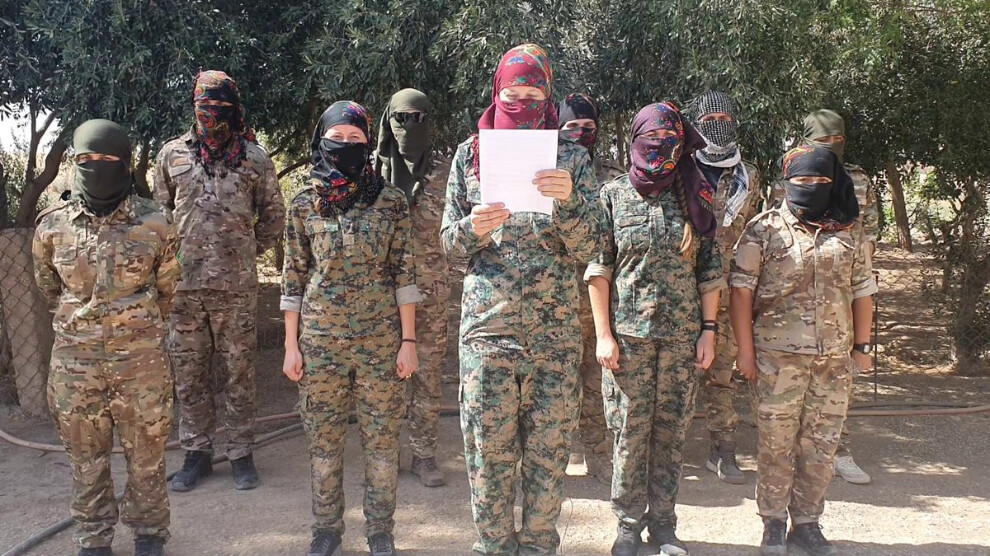 Another message against the Turkish state's recent attacks on Northern and Eastern Syria came from the internationalist fighters of the YPJ. The fighters broadcast a video saying that they will defend the revolution to the end.
The YPJ international said that YAT commander Jiyan Tolhildan, YPG commander Roj Xabur and YAT member Barin Botan fell as martyrs on 22 July as a result of Turkey's attack, and added that 56 attacks were carried out against Rojava with drones in 2022 alone, and 27 people lost their lives in these attacks.
Stating that Turkey has been carrying out non-stop attacks against Rojava since the Afrin invasion in 2018, the fighters said that the Turkish state wants Kurds to be driven out of their land and the revolution to be crashed.
Calling all Rojava friends in the world, the fighters said: "Stand up with us and defend this women's revolution. We must expose the dirty plan of the Turkish state, which includes the counter-revolutionary war targeting women revolutionaries. Our most urgent demand is to declare a no-fly zone."