165 ill women prisoners, says the Human Rights Organisations
The IHD Women's Commission said that there are 165 ill women prisoners in Turkish jails, 33 of whom are held in the Aegean region.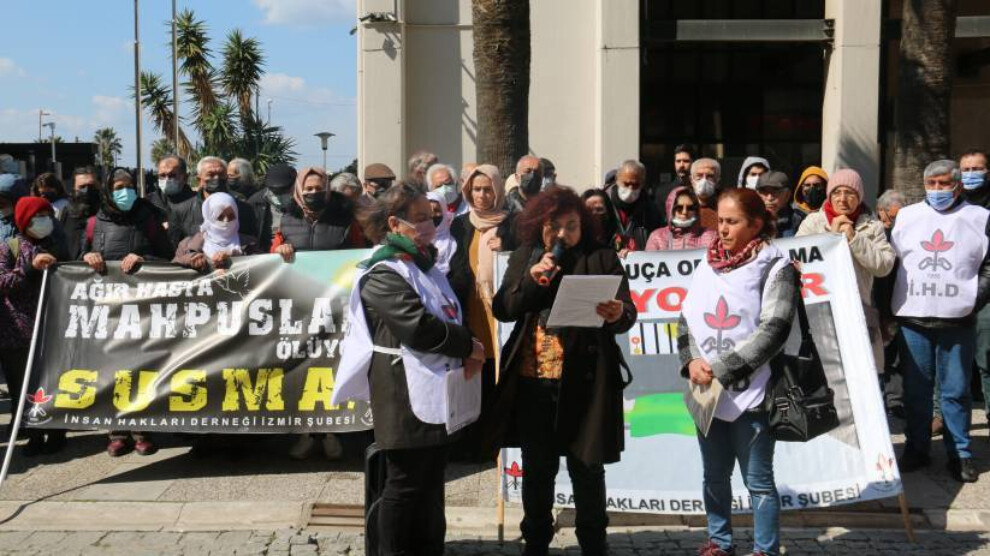 The Human Rights Association (IHD) Izmir Branch Prisons Commission's "Freedom for ill prisoners" which, like every two weeks has been taken over by the Women's Commission. Making a statement in front of Konak Eski Sümerbank, the Women's Commission drew attention to the situation of seriously ill imprisoned women.
'Women are struggling to survive'
IHD Women's Commission member Cemile Karakaya said that women are facing oppression, violence, harassment, rape and murders in many areas. She added that one of these areas is prison. "Prisons are known to be the places where the right to life is violated the most. Ill prisoners are paying the highest price, they died in jail. Women struggle for their lives and can survive with great difficulties. In prisons, female prisoners see their needs not taken into account, while their fundamental rights are ignored."
 'The violations of rights are endless'
Noting that arbitrary attitudes are displayed even in meeting the special needs of female prisoners, Karakaya said: "Pregnant, elderly or disabled women are put in handcuffs in the ring vehicle on their way to and from the hospital and courthouse, strip searches are imposed and are often carried out by male officers. Even gynaecological examinations are carried out in the presence of the military male personnel and women are kept handcuffed. Violations of rights are endless in prison."
165 ill prisoners
Karakaya said that there are a total of 1605 ill prisoners, 604 of whom are seriously ill, in the country's jails and added that 165 of these ill prisoners are women and 33 of them are in the Aegean region jails.