A young leading commander: Bêrîtan
Bêrîtan Koçer, who joined the guerrilla troops at a young age against the genocidal attacks of the Turkish state in Kurdistan, took part in numerous actions as a female commander and inflicted heavy blows on the invading enemy.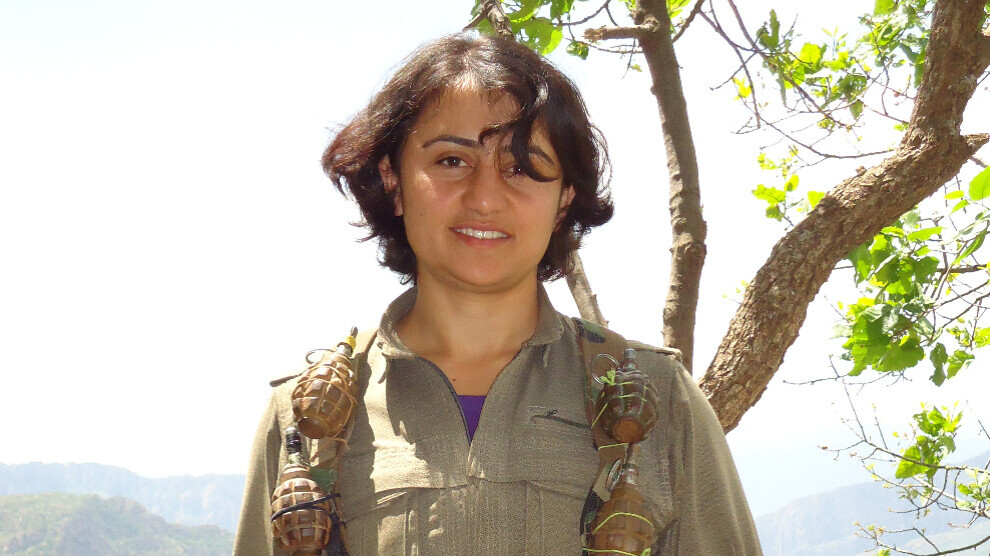 A struggle full of heroism and legendary victories has been waged in all four parts of Kurdistan throughout history. Female guerrillas leading this resistance have recently created a new model of struggle for society. Guerrilla Bêrîtan grew up with dreams of following in the footsteps of martyr Bêrîtan (Gülnaz Karataş), a prominent fighter of the Freedom Movement.
Bêrîtan Koçer (Beritan Çetinkaya) was born in Siirt province in 1994 to a patriotic family. Bêrîtan, whose family was a migrant family, grew up with Kurdish culture and values. This became one of the strongest justifications for her quest for freedom. In particular, attempts to poison Kurdish leader Abdullah Öcalan in 2007 affected Bêrîtan Koçer deeply. She joined the guerrilla troops in the Botan area in 2008 to take revenge and hold those responsible accountable. As a young guerrilla, Bêrîtan obtained a lot of experience in many fields, such as Garê, Zap and Botan. As a young female commander, Bêrîtan, who took part in many actions and inflicted heavy blows on the invading enemy, was martyred along with her 6 other comrades following an air strike by the enemy forces in Şırnak province.
FOR A FREE KURDISTAN
Martyr Bêrîtan, like many of her comrades, kept a diary about her guerrilla life. In one part of her diary, she talked about her journey to Bakur with fellow fighters and the difficult conditions that became a part of their lives: "When one thinks of guerrillas, living under difficult conditions with all its beauties springs to mind. Undoubtedly, these difficult conditions can be overcome with experience and strong will. Under difficult conditions, we set out on a journey towards the Bakur area on April 6. It was spring and many colours of spring fascinated us on this journey. Nature greeted us in a different way each day. Wind, rain, cold, humidity, heavy loads caused greater difficulties on the long road. The hardest part was the snow on Berana Hill. We had a lot of trouble while crossing this area. Despite all these difficulties, our journey was very enjoyable and enthusiastic. We faced the harsh conditions of nature, but as militants inspired by Öcalan, we were not affected by these harsh conditions. It would be very difficult to live in these mountains without willpower and ideals.
There were mostly young friends in our group, and they were entering the Bakur area for the first time. They seemed to be very determined. Because they had a purpose. They set out for a free Kurdistan that they had been dreaming of for years. Heval (comrade) Şilan boosted the morale of her comrades with her enthusiasm and assiduity. Heval Rojda was also boosting the morale of her comrades with his youthful energy. Despite his vitality and emotional richness, Heval Bager became the subject of curiosity among his friends for his silence. Comrade Ferhat set an example for his friends who were going through difficult times with his self-sacrifice and enthusiasm. Sidar was our source of strength with his power and passion for struggle. Each comrade was trying to fulfil his/her responsibility perfectly. Each friend was helping the others.
I came to Bakur as a guerrilla for the first time, which was the first stop of our long journey to realize my dreams. I have had a lot of guerrilla experience in the South, participated in demonstrations, fulfilled my organizational work and duties, but I am a new fighter in Bakur. I believe that the Bakur areas will contribute to my success in the guerrilla warfare."
KATO MOUNTAIN
In one section of her diary, guerrilla Bêrîtan describes her devotion and love for Kato Mountain: "Mount Kato, you are like a fortress of resistance in Botan with your beauty and rebellion. No one knows how many friends' footprints were left on your slopes and rocks, how many friends took to the roads to see your beauty. Countless young people have set their hearts on your majesty. Today, more than ever, you are a refuge for the guerrillas, and we are doing everything to protect you. Mount Kato, whatever I write to praise you will remain incomplete. Kato Mountain is full of pain, joy and memories. Every part of you is filled with faith, loyalty and struggle."
Martyr Bêrîtan talks about the Botan martyrs and heroes in her diary as follows: "Can the last martyrs of Beytüşşebap be forgotten? Delîla, Sozdar, Berfîn, Cesûr, Baran, Helena, Cûdî, Deniz, Îbrahîm, Xemgîn, Akîf, Piling, Rênas, Dêrsim, Cûdî Şirnex, Xwînrej, Bahoz, Têkoşer, Ferman were all the pioneers of the struggle. Each of them was the epitome of true comradeship. The Kato Mountain is today a refuge for the revolutionaries and their legacy of resistance."