Cihan Xidro: We will make laws for women
"We will create laws as part of the fight against violence against women. We also develop training programmes for women, families and men in the society. We aim to create a more conscious and sensitive society."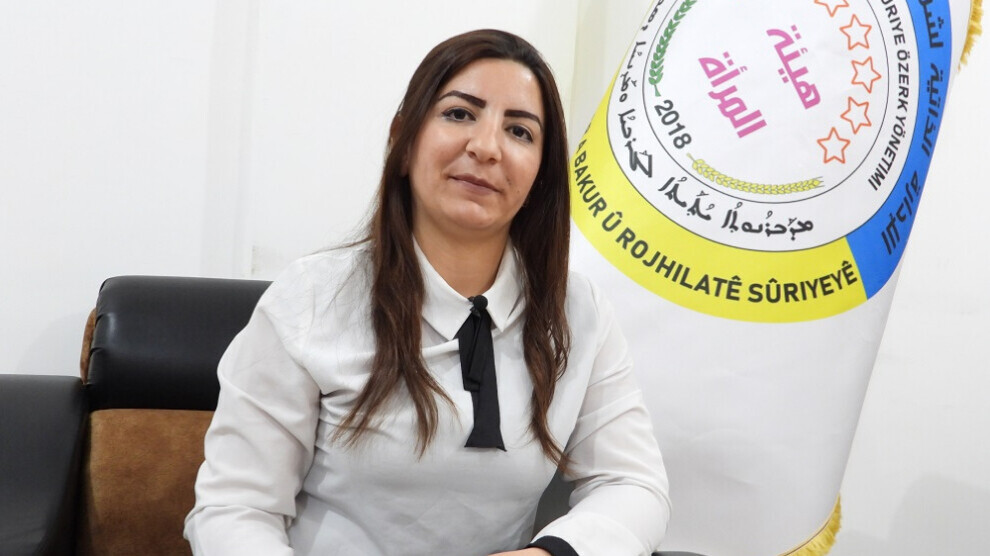 Cihan Xidro, Chair of the Women's Council of the Autonomous Administration of North and East Syria, said that violence against women is also seen in the Autonomous Administration and added that they will introduce laws to combat it.
ANF interviewed Cihan Xidro who stated that the main reason why the Turkish state and its mercenaries target women, in particular, is that women lead the democratic nation project.
She said that "The North-East Syria model which is based on a democratic nation was introduced as a women's project. That's why women have always been the target of attacks."
BREAKING WOMEN'S WILL
Xidro pointed out that women are the primary target of attacks by all mercenaries, especially Jabhat al-Nusra and ISIS which are backed by the Turkish state.
"Women's will is targeted. The aim is to break the will of society in the person of these pioneer women. Women are the first targets of all occupation attacks. Various special and psychological warfare are carried out within society," she said.
'TURKEY FURTHER AGGRAVATED THE SYRIAN CRISIS'
Xidro emphasized that the Turkish state played the biggest role in deepening the Syrian crisis, which started as a revolution and then turned into chaos. "The Turkish state played a major role in the transformation of the process that started as the Syrian Revolution into crisis and chaos. The Turkish state got involved in the Syrian crisis and played a negative role there. It occupied Jarablus on March 16, 2016, then Bab, Azaz, Afrin, Girê Spî and Serêkaniyê. The first thing the Turkish state did in these regions was to change the culture, morality and demographic structure of the people living in these regions. There has been violence, kidnapping, rape, in short, inhumane practices against women in these regions. Women were raped, murdered, kidnapped. Dozens of women are still missing and there is no information about their fate. Unfortunately, as the Turkish state is doing these things, the whole world remains silent against it."
'REASON OF VIOLENCE IS TURKISH STATE'
"There are some reasons for violence against women in some of our regions. First of all, our region is constantly attacked by the Turkish state and its mercenaries. Some of our people, whose houses and villages were bombed, are forced to migrate and settle in camps. Furthermore, there was ISIS mentality that suppressed people. Currently, ISIS has been eliminated, but there are some groups in the region influenced by this mentality. In addition, there was a quarantine in the region for a long time due to coronavirus. People had to stay in their homes, which caused problems within families."
LAWS TO PROTECT WOMEN
Xidro stated that the Women's Council has developed projects to prevent violence against women. "We will create laws as part of the fight against violence against women. We also develop training programmes for women, families and men in society. We aim to create a more conscious and sensitive society."