Four detained in police attack on women's demo in Istanbul
In Istanbul, four activists were arrested during a protest action against the planned cancellation of the Istanbul Convention against violence against women.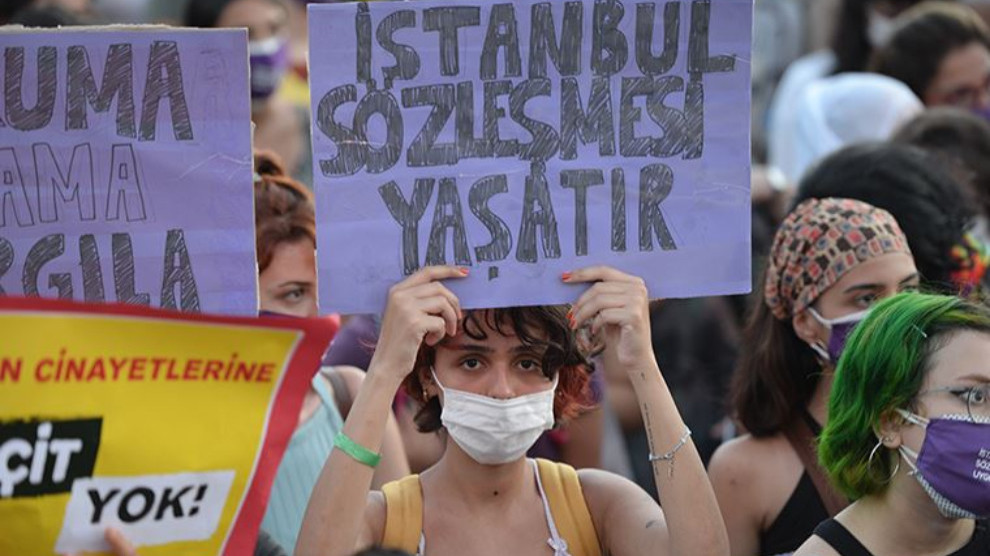 Members of the "Women's Emancipation" group protested in front of the editorial office of the government-close and ultra-conservative newspaper Yeni Akit in Istanbul against the AKP/MHP government's planned withdrawal from the Istanbul Convention. The activists unfurled a banner that read: "The enemies of women and LGBTI will remain silent, the Istanbul Convention will be implemented!"
When the group wanted to make a statement about their action, they were attacked by the police. Activists Yıldız İdil, Burcugül Çubuk, Başak Yeşilot and Seher Beytaş were arrested during the crackdown.
Background: The Istanbul Convention
The Istanbul Convention - the Convention for the Prevention and Combating of Violence against Women and Domestic Violence - was drawn up by the Council of Europe as an international treaty in 2011 and entered into force in 2014. It is considered a milestone in the fight against patriarchal violence and obliges the signatory states to combat gender-based violence and to improve prevention and support services. Turkey was the first country to sign the convention and ratified the treaty in 2012 in parliament, but the legal norms are not applied in practice. Neither the planned offers of help and protection for women are being implemented, nor is, for example, Law No. 6284, which the AKP government claims is intended to act as a "protective cloak for women", being effectively applied. This is despite the fact that in the country on the Bosporus, misogyny and violence against women are not uncommon, but are the patriarchal foundation of society. According to the platform "We Will Stop Femicide" (Turkish: "Kadın Cinayetlerini Durduracağız Platformu") 474 cases of femicide were registered last year alone, yet the government of Erdoğan is discussing whether to withdraw from the Istanbul Convention - because it "undermines" traditional values and makes men "scapegoats".