"Honor killings": Women demand punishment for perpetrators of feminicide
In the northeastern Syrian autonomous region, women have once again taken to the streets against feminicides. In Raqqa, the women's coordination of the Autonomous Administration demanded consistent punishment of the perpetrators of so-called "honor killin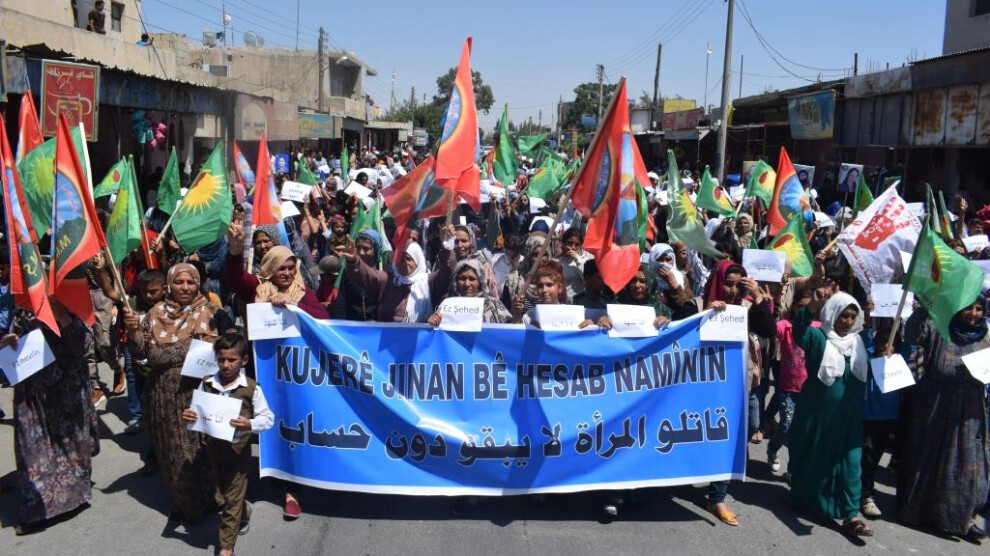 The Women's Coordination of the Autonomous Administration of North and East Syria calls for a consistent fight against feminicide. The background is the murders of two girls by family members in Hesekê. At a press conference in Raqqa, Cihan Xidro, speaking on behalf of the Women's Coordination, said that women have been fighting against patriarchal oppression for hundreds of years and are still affected by violence. She noted that 657 crimes against women and girls have been recorded in the autonomous area since the beginning of the year: "All women's institutions must fight against this together. To create awareness among women and in society, we must go from house to house and educate." Crimes against women must be consistently punished, she said.
Hundreds of people have once again taken to the streets in Kobanê with the same demand. "Punish murderers of women" was written on a banner at the demonstration of the women's umbrella organization Kongreya Star in the town of Sirîn. Speeches condemned "murders of women in the name of honor." Firyaz Berkel of the Women's Committee of the Euphrates region stated in a speech, "The whole world knows that the Rojava revolution is a women's revolution. Women have fought for great achievements. For this reason, women are under direct attack."
Two girls murdered within a week
15-year-old Aya Mihemed was murdered by her father in Hesekê on Monday evening. A few days earlier, 13-year-old Eida Al-Hamoudi Al-Saeedo was shot dead by male family members in Hesekê. Both cases were "murders for the honor of the patriarchy." Throughout northeastern Syria, women have been taking to the streets for days against these crimes.