Jineoloji symposium in Maxmur
A Jineoloji symposium for the residents of the refugee camp in southern Kurdistan took place in Maxmur. The content was about the term "Xwebûn", which was coined by Abdullah Öcalan and taken up by the Kurdish women's movement.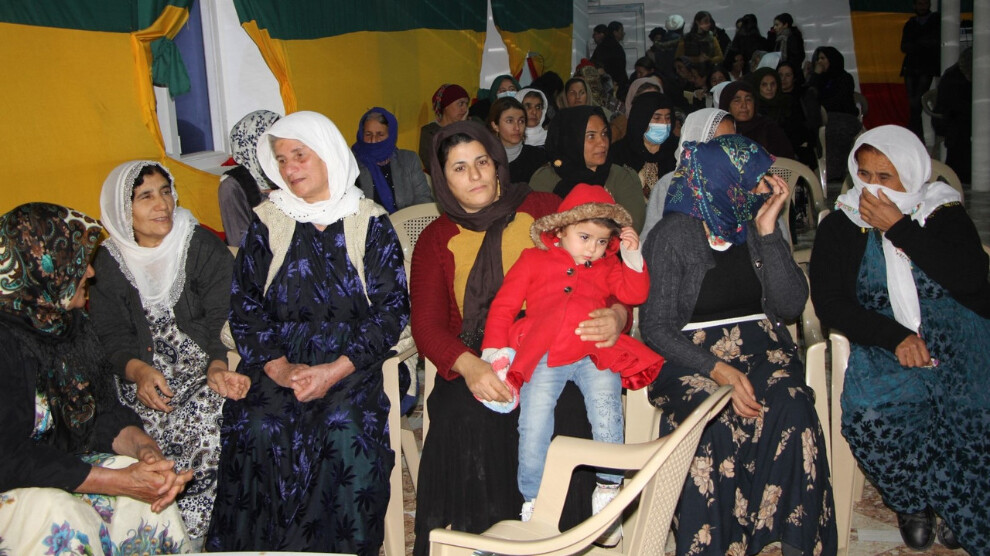 The Jineoloji Committee in Maxmur Camp in Southern Kurdistan (Northern Iraq) held a symposium on the keyword "Xwebûn". Xwebûn means becoming or being oneself. The term was coined by Abdullah Öcalan in connection with his ideas of a free life in partnership: Such a life means giving existence and consciousness a new form. This unity of existence, consciousness and form was defined by Öcalan as Xwebûn and given primarily to women.
At the symposium moderated by Gulan Avrê in the building of the People's Council of Maxmur, five speakers presented their interpretation of the term Xwebûn. The central question was how the 12,000 residents of the refugee camp can "be themselves", what prevents them from doing so and what solutions are possible.
Hewar Gabar explained the concept of Xwebûn and said: "Our mothers taught us that we cannot be ourselves if we do not have a home and a land to live on. Those who don't have that are not themselves and become someone else."
Filiz Budak from the Jineoloji Committee elaborated on Abdullah Öcalan's interpretation in her presentation, saying, "As long as we are not ourselves, we cannot speak of freedom. We cannot speak of struggle either. How can a form of existence be itself and how is it made not to be itself anymore? From the perspective of Jineoloji, this question brings us first to the goddess culture and what was created in it."
In his contribution, youth activist Medeni Ilhan outlined the connection between Xwebûn and ecological approaches: "The more humans distance themselves from nature, the more they distance themselves from themselves and their essence. Look at the massacres taking place, the hate discourses, the attacks and the unlimited exploitation. Behind it is the human being distanced from himself. A person who is not herself resorts to such methods."
Xantur Kara from the Ishtar Women's Council explained the basic principles of the Kurdish women's movement and said that love and the will for freedom were the prerequisites in their struggle. In order to be able to fight, women have to find their own selves, she underlined.
Ruheyv Efrîn from the Culture and Art Institution spoke about the existential importance of cultural work for the Kurdish people: "Culture and art contribute significantly to preserving one's own self. Parents must let their children grow up with Kurdish culture. In our society, this is a fundamental need."
After the presentations, the participants asked questions and made their own assessments.