Jovita Montes: We are different, but we can unite
Jovita Mataro Montes said that the conference organized by the Network Women Weaving the Future, which brought together women of different classes from all over the world, showed that the perspective of World Women's Confederacies is an achievable goal.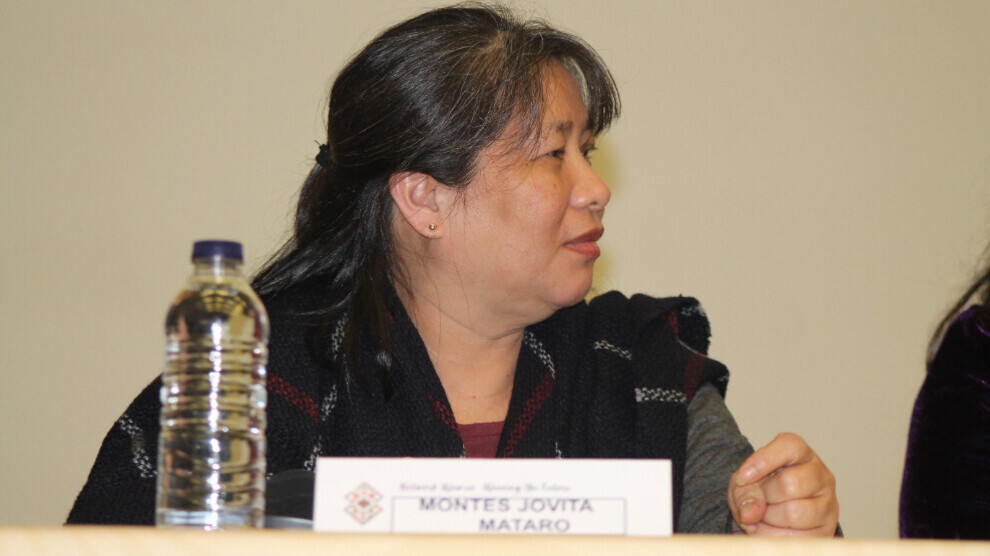 Jovita Monte from the Philippines, director of the GABRIELA women's organization, has more than 20 years of experience in cases of violence against women and children. ANF interviewed Monte, who also attended the 2nd International Women's Conference organized by the 'Network Women Weaving the Future' in Berlin on November 5-6 under the motto "Our Revolution: Liberating Life".

You represent an organization with a long history. Can you tell us how you developed your organizational model?
GABRIELA was formed in 1984 with a coalition of 40 women's organisations coming from the grassroots. I mean in terms of the grassroots, we have an army based on women's organization. We have a women's workers' organization. We also have the GABRIELA youth organization and also, we have an LGBT organization. So, we say it is grassroots women, because we base our issues on the rights of women based on the analysis of the situation of grassroots women. From this point of view, we would come up with campaigns, actions and programs.
Are you an umbrella organization or an alliance?
We are an alliance and an umbrella organization. But at the same time, we are a mass organisation. Which means it is an organization of grassroots women that have come together to fight for women's rights. And also, all forms of exploitation and oppression of women and people.
On what is GABRIELA's understanding of self-defence based?
Our basis of strategy is that we would always do social investigation and class analysis on the situation of women and society. From there we would always study and analyze why women are suffering, why women are like this. We always ask the question why and from there come up with a strategy on how to address it. For example, there is the issue of violence against women. It is a political issue for us. Why? Because based on the context of the Philippines... We are a semi-colonial and semi-feudal society, and our economic base is still based on agriculture. We are an import-dependent, export-oriented economy. And from there, we know that there is a reason why there are so many cases of violence against women is that it is not just because men are angry with women, but because of the economic conditions that we are suffering. We are suffering from poverty; we are suffering from exploitation and oppression. This is the root cause of violence against women.
Is GABRIELA's current organization sufficient to address human rights, poverty, militarism, violence, rape culture, health, woman trafficking and other problems affecting women?
I'm a psychologist by profession and I do counseling with the victims of domestic violence and other forms of violence against women. So, aside from doing counseling with them, we try to organize them so that they themselves will get up and do something to change the situation. This is the goal. It is not only us, but also the victims to become survivors and be part of our struggle. Because we know that sometimes it is the state who perpetrates the violence. So, we focus on how we can address them. At the same time, we lobby for laws that would address and somehow change the situation of women.
Can GABRIELA be suggested as a model for other women's organizations around the world?
I think yes. Because our organization has been in existence for years. And we know that we have won some victories. We know that this is the right path. There are some changes that we are able to make in our country and, at the same time, we were able to put forward. We must have specific issues at the national level and also at the international level. Somehow, there is a future for the struggle of women to reach a just society and to end all forms of oppression and exploitation.
Participants said that "the women's problem is global and it should be addressed globally" and proposed to form a world-wide women's confederalism by creating a global network of women's organizations. Do you find this proposal achievable? What should be done to create such a network?
Personally, I can see that it can be achievable. You know why, because we should always start within ourselves. We did build gaps and bridges. So everything will contribute. For example, in our country we have this campaign against violence against women and another country has this campaign on violence against women and slowly it will add up. Building a just society for women… And along the line, we also have to see that it is not only women but the people. We also have to inform them, allow them, organize them and mobilize them to be able to build that solidarity among the peoples of the world.
We are almost the same because we are struggling for anti-colonialism. It is almost the same struggle. Because our country is a semi-colonial and semi-feudal country.We have been attacked by neo-liberal policies. So we are almost in the same struggle against liberalism, neo-liberalism and imperialism.
I think this conference is very important, because it unites women from all over the world and also from different classes of women. So, it's a kind of rallying point. Yesterday, I was listening to the session and then I came to realize it. Women come from different classes, different countries, but at the same time, when we have this conversation, we are able to unite and do something. So, this is a very important conference, and we hope that we will be able to do more next time.